---
Welcome to issue 36 of the Call to Comms!
Today's newsletter marks the 20 years anniversary of the Americas base!
From a base dedicated to emergency deployment in Nicaragua to a regionally-recognized base for information diffusion in Mexico, learn more about TSF's presence in Latin America through the insights of Armando, TSF's Representative of Latin America and the Caribbean.
This week's reads:
The International Day for Universal Access to Information was celebrated on September 28th.
The share of misinformation about migrants in Lampedusa has been escalating since the beginning of September.
Two satellite businesses merged together to create a GEO-LEO satellite group.
Also this week: a supporter of TSF will be running a half marathon to fundraise for Télécoms Sans Frontières on October 8th.
---
The evolution of the Latin American & Caribbean base
Past
TSF first opened its regional base in Latin America and the Caribbean in 2003, to facilitate rapid deployments and build long-term resilience projects in the region.

Initially located in Nicaragua, the LatAm base enabled TSF to extend its participation in regional emergency response mechanisms, notably through a capacity-building program funded by the European Civil Protection and Humanitarian Aid Operations (ECHO) in 2009. The base also contributed to bridge the digital divide by providing free access to communication technologies.

During this project, TSF shared its experience with other humanitarian actors and helped build a network of trained emergency telecommunication specialists to coordinate efforts and increase the effectiveness of relief operations regionally.


Present
Now located in Guadalajara, Mexico, the Latin America and Caribbean base is no longer only focused on emergency deployment, and has become regionally-recognized for its expertise in information diffusion.

The base's permanent project is to provide refugees and migrants with access to reliable information during their migratory journeys. TSF's LatAm team has installed informative screens in several shelters along the main migration routes in Mexico, Colombia and Guatemala, enabling people to stay informed on health issues, legislation and much more.

Recently, the LatAm base has been the main focal point for a capacity-building project supported by the Internet Society Foundation, contributing to build regional resilience to natural disasters in the Caribbean and South-East Asia.

The ability to implement independent projects from this base has always been a major achievement that truly underlines the base's capabilities. This reinforces its legitimacy, from referent in communication technologies to specialist in the diffusion of information, both nationally and regionally.

As Armando - TSF representative of the Latin American and Caribbean base, explains it:

"Now I think that we are recognized in the region in terms of information access but also in Information and Communication Technologies (ICT) for humanitarian and other social activities."

Future
One of the next milestones for the LatAm base is to continue building long-term regional operational alliances, enabling the implementation of new projects, using new technologies and in collaboration with other humanitarian regional actors, with a particular focus on projects contributing to regional resilience.

In the long run, the aim is to continue improving existing projects, in line with the evolution of telecommunications technologies, changing contexts and community needs. In fact, the LatAm's TSF team is currently working on a new project focusing on internet resilience and digital inclusion.

"We want to keep the projects running and also improve it because every time we learn more and more about the needs but also about how we can respond to those needs."
- Armando

---
This week's reads

1 - International Day for Universal Access to Information
September 28th marked the International Day for Universal Access to Information.
Today, billions of people still do not have access to reliable information, which contributes to further marginalization and inequalities.
"Access to information, whether online or off, enables people to be better informed and better equipped to participate in decision-making, thus improving the quality and sustainability of development outcomes."
2 - Misinformation about migrants in Lampedusa
More than 2,500 people have died or gone missing while trying to cross the Mediterranean to Europe since the beginning of the year.
Since mid-September, social media have been flooded with fake news and misinformation about migrants.
This is not a new phenomenon, but it underlines the importance of fact-checking and digital literacy.

3 - Eutelsat and OneWeb combine
Eutelsat and OneWeb, both satellite businesses, are merging together, creating the "Eutelsat Group", the first GEO-LEO satellite operator.
Eutelsat has been a TSF partner since 2007.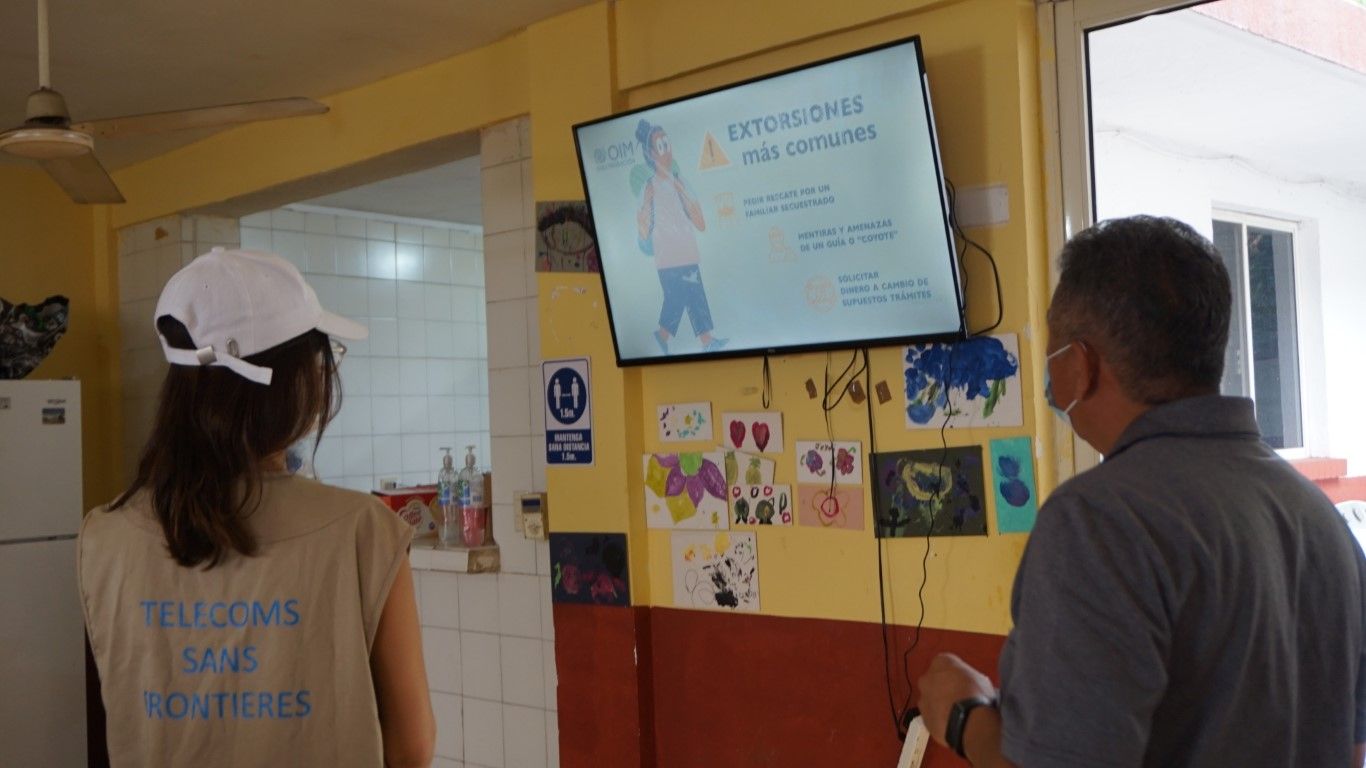 ---
Also this week
A half-marathon in support to TSF

This Sunday, October 8th, Ben Terry will be running the London Royal Parks Half Marathon in support of Télécoms Sans Frontières. He's already reached his fundraising goal, but if you want to support him, you can do so here. Good luck for your run Ben and thank you for your support!

See you next week!

---