---
Welcome to issue 18 of the Call to Comms!
This week, meet Emmanuel, TSF's head of communications. After a decade in the humanitarian sector and different jobs inside TSF, he shares how he got into the field and what kept him going.
To continue raising awareness of mental health during this month dedicated to it, we are putting the spotlight on NGO workers. How can we take care of the mental health of humanitarian workers?

💬 In this week's issue:
---
Meet Emmanuel, TSF's Head of Communications
Emmanuel is the head of communications at TSF. He joined TSF 10 years ago as a telecommunications engineer and discovered an interest in communications as he went along.
"What I find extraordinary is to witness a great chain of solidarity, which extends from our partners and all our supporters, to our actions in the field."
In the daily life of a communications manager, "there is a part of content creation, a part of centralizing information from my colleagues at headquarters or in the field. I also see how committed our partners are to enable us to carry out concrete actions in the field.". This position allows him to observe and make sense of the networks necessary to humanitarian actions: those who create projects, supervise it, work on it, support it – a 'great chain of solidarity'.
"We know that communicating can make a difference in the lives of people who are going through a crisis, and this is what gives meaning to our work."
Humanitarian work can be very rewarding, but it comes with challenges; for Emmanuel, 'what is challenging in humanitarian work is that it is never over.'
Read more about his experience and insights in his interview: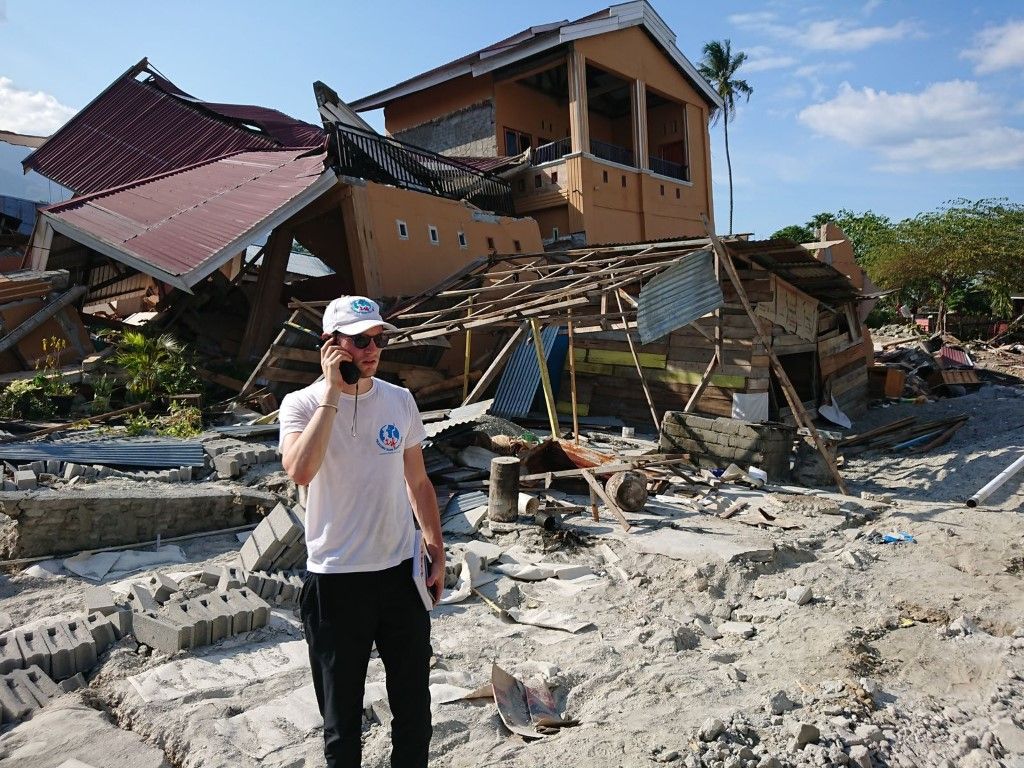 ---
🗞 Latest news from TSF, our partners, and the humanitarian and technological web
New TSF staff hired to support Ukrainian refugees. We are happy to welcome Magdalena in our team as Content Designer – making essential information understandable and as clear as possible for those forced to flee.
New report shows new technologies used in asylum and immigration governance in Europe. From lie detection tools at the borders to dialect recognition technologies, new technologies are being used and tested on people in displacement across Europe.
TSF featured in Capacity on Ukraine's actions. Turn to page 22 to read an article on TSF's actions to help the people fleeing the war in Ukraine, written by Emmanuel, who was part of the first team deployed a few days after the start of the war.
'Safe digital public square' never more important. The UN human rights chief argues that a space where everyone can speak is critical for a fully functioning society.
Inmarsat's March in May. As May draws to a close, we thank again Inmarsat's initiative to raise funds internally for TSF through their campaign 'March in May'.
As worker mental health concerns grow, organizations are staffing up. Some global development organizations are preparing development workers for the unique psychological challenges they face, including adding internal roles to support staff.
---
Caring for the mental health of humanitarian workers
Last week, we talked about the mental health of people in forced displacement, on the occasion of Mental Health Awareness Month. Some TSF staff members shared the emotional challenges they face.
"The most challenging aspect is sharing the experience [with refugees] and trying to detach myself from the emotional part of things."
Hanna, Project Coordinator in Poland, for the Information Diffusion project for Ukrainian refugees.
Humanitarian workers are often confronted with crisis situations and the suffering they cause, and interact with the people affected. This can lead to higher proportions of PTSD, anxiety, depression, hazardous alcohol consumption and burnout than in the rest of the general population.
"Many times, I find myself crying about what I'm reading, how people get harmed, how kids get harmed. So I think sometimes I get burnt-out with this information that is very heavy to read. Your life is not the same after you read those news."
Gabriela, Content Designer in Mexico, for the Information Diffusion project in Latin America.
To support humanitarian workers who are often witnesses of crisis after crisis, who need to get over their own struggles to provide support to affected populations, there are several solutions.
What can be done to support humanitarian workers's mental health?
Build personal resilience through self-assessment (identifying emotional vulnerabilities) and self-care (relying on emotional strengths and exercise)
Promote work-life balance to help with stress linked to heavy workload and family separation
Encourage organizational support, with positive supervision and team support that can mitigate the development of mental distress
---
Humanitarian jobs opening at TSF
---