Women represent nearly half of the world's 244 million migrants and half of the 19.6 million refugees. Whether they are fleeing difficult living conditions exacerbated by climate change, gender-based discrimination or conflict, they are more vulnerable to sexual violence, human trafficking and exploitation.
Fleeing discrimination and facing abuse
"Danik" is an 18-year-old transgender girl from a small town in Honduras. TSF interviewed her at a shelter in Mexico where we display essential information for refugees. When she left her country, she was 16 years old. She left Honduras to try to reach Mexico to escape discrimination.
"As a child, I lived with my grandmother and my aunts threw me out of the house. I did not understand why. Although my appearance is different, I am a woman. (...) You leave your country and you don't know what problems you are going to face. My experience was very hard because of my sexual orientation."
Danik, an 18-years-old Honduran refugee in Mexico.
When she and her friends tried to cross the border into Guatemala after an eight-hour walk, two soldiers told them they would let them pass in exchange for sex. Danik refused and the soldiers eventually let them through. The situation could have been much worse, and it is for many girls and women who seek refuge and find themselves facing abuse.
"At the shelter in Santa Elena some Honduran men tried to abuse us and those from the shelter decided to remove us from the shelter."
Danik, an 18-years-old Honduran refugee in Mexico.
There are many reasons for people to flee their situation and become refugees, but the main one is conflict. In Ukraine, conflict-related sexual violence is reported, while women who remain in Ukraine face an increase in domestic violence, with few or no structures to turn to for help.
UN Women estimated that 90% of those who fled Ukraine were women and children. This means that women are the sole caregivers for their children when they move, and sometimes for their older parents as well.
"We were forced to move because the Russians came to us. It had become impossible to live in our city. It was very difficult, we barely got out of there. I have three children, at that time I still had grandparents. Grandfather died 2 months ago, we buried him. A very difficult story, I [wish it didn't] happen like that, away from our home city. But it turned out that way."
Tetyiana, a Ukrainian IDP in a collective center in Vinnytsia where we provide free Wi-Fi.

Protecting their family
Refugees fleeing their country seek emotional support from their loved ones to find the strength to keep going. They also need information about the next steps in their journey. TSF provided free Wi-Fi access on refugee buses from Moldova to Romania, and in collective centers in Ukraine.
In the Polish centers where we display essential information for refugees, 62% of women fleeing war travel with their families. How can they help their children deal with the fear and stress of the situation? One way is to know the right techniques:
"I enjoyed learning how I can help my kids stay calm under pressure."
An anonymous Ukrainian refugee in Poland about the information displayed on the screen.
With connectivity, women can seek information about their situation and look for work to stay afloat. Without reliable information about resources available to refugees, access to their family networks, or income, refugee women and children may be at greater risk of sexual violence or human trafficking.
Caring for children and the elderly involves responsibility. Traffickers use these responsibilities as a means of control or pressure. Women with multiple responsibilities become more vulnerable to the threats of sexual violence and human trafficking.
Refugee women and girls at risk of violence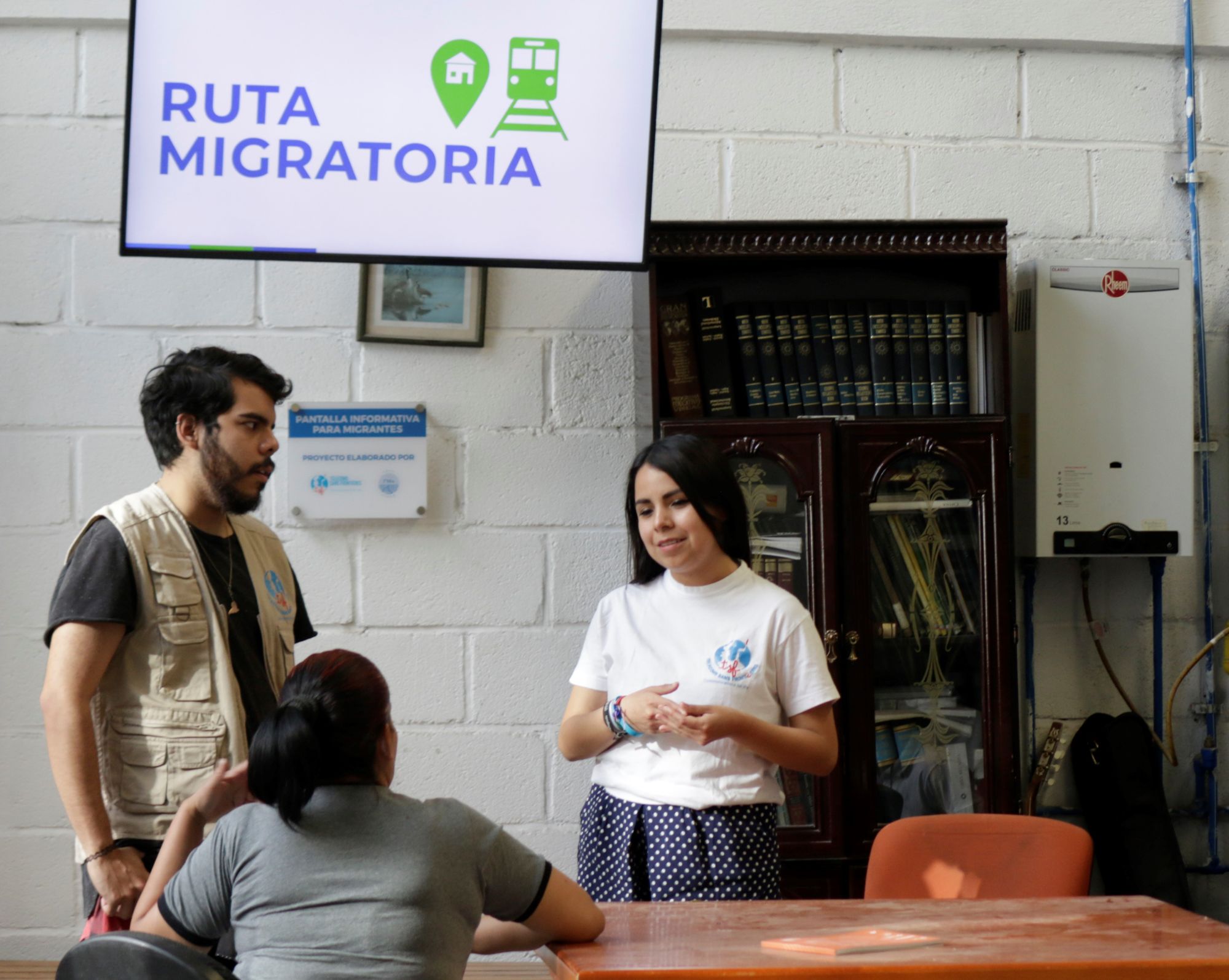 Taking time to calm down in a safe place, with access to the right information to plan next steps in the journey, can be a way to reduce the risk of human trafficking. 83% of people who accessed free Wi-Fi on buses from Moldova to Romania were able to make important decisions after talking to loved ones online or searching for information.
"Your screen made me realize I have different options in this country and I don't need to come back to my country of origin right now."
An anonymous Ukrainian refugee in Poland.
Wendy is a Honduran woman whom TSF interviewed at Casa Nicolas, a safe space for refugees in Mexico. She fled violence and extortion in her home country with her two daughters. When she saw the information displayed on the screen about the dangers of crossing the border with minors, she decided to stay in Mexico and today she works as a cook at Casa Nicolas.
"When I saw the screen I started to analyze and I saw information from The Mexican Commission for Refugee Aid, I decided it was better to stay here. What we want is to survive."
         Wendy, a Honduran refugee in Mexico.