A year ago, on February 24, 2022, the invasion of Ukraine by the Russian army began. A few days later, a TSF team reached Eastern Poland to meet the connectivity and information needs of refugees fleeing the war.
"When millions of refugees poured into Poland in a matter of days to get away from the violence in Ukraine, the situation was very chaotic and we quickly identified that the need for access to clear and accurate information would be crucial to help them adjust to their situation."
- Sébastien Latouille, TSF delegate for Europe and the Middle East.
To meet this urgent need, we connected a bus convoy in Romania. Thanks to the Wi-Fi available during the trip, the refugees were able to search for information to prepare the next steps of their journey, and stay in touch with their relatives to better manage the stress of the situation.
In parallel, a needs assessment phase launched the information dissemination project in Poland, and connectivity for refugees.
In Ukraine today
Inside the country, the situation of the territories is very variable. In the East, the battle rages on the front lines; in the West and in the center of the country, the situation is calmer despite regular bombings. It is therefore in the West and in the center that people who have been forced to flee their homes, very often families, go to find temporary accommodation.
"I came from the city of Severodonetsk, Luhansk region. We arrived on March 29, 2022. We were forced to move because the Russians came to us. It has become impossible to live in our city. It was very difficult, we barely got out of there."  
- Tetyiana, an internally displaced person, in one of the collective centers in Ukraine, February 2023.
National solidarity has been organized, and different institutions have been asked to host the displaced families, including schools or universities that have accommodation. TSF provides connectivity and/or distribution of connectivity in these temporary accommodation centers.
"We use the Wi-Fi connection and it is very important for us because my husband and I work online. And this is one of our main needs, because there is not enough money for 4G Internet. The free Wi-Fi made life much easier for us. I don't know what we would do without such support. It is also necessary for children studying online, now there are no problems for them in terms of education."  
- Kate, an internally displaced person, in one of the collective centers in Ukraine, February 2023.
Apart from this direct support to displaced people, TSF also provides emergency communications means to NGOs in Southern and Eastern Ukraine.
In 2023, TSF plans to expand this connectivity to other collective centers in major cities hosting IDPs, including Lviv.
In Poland today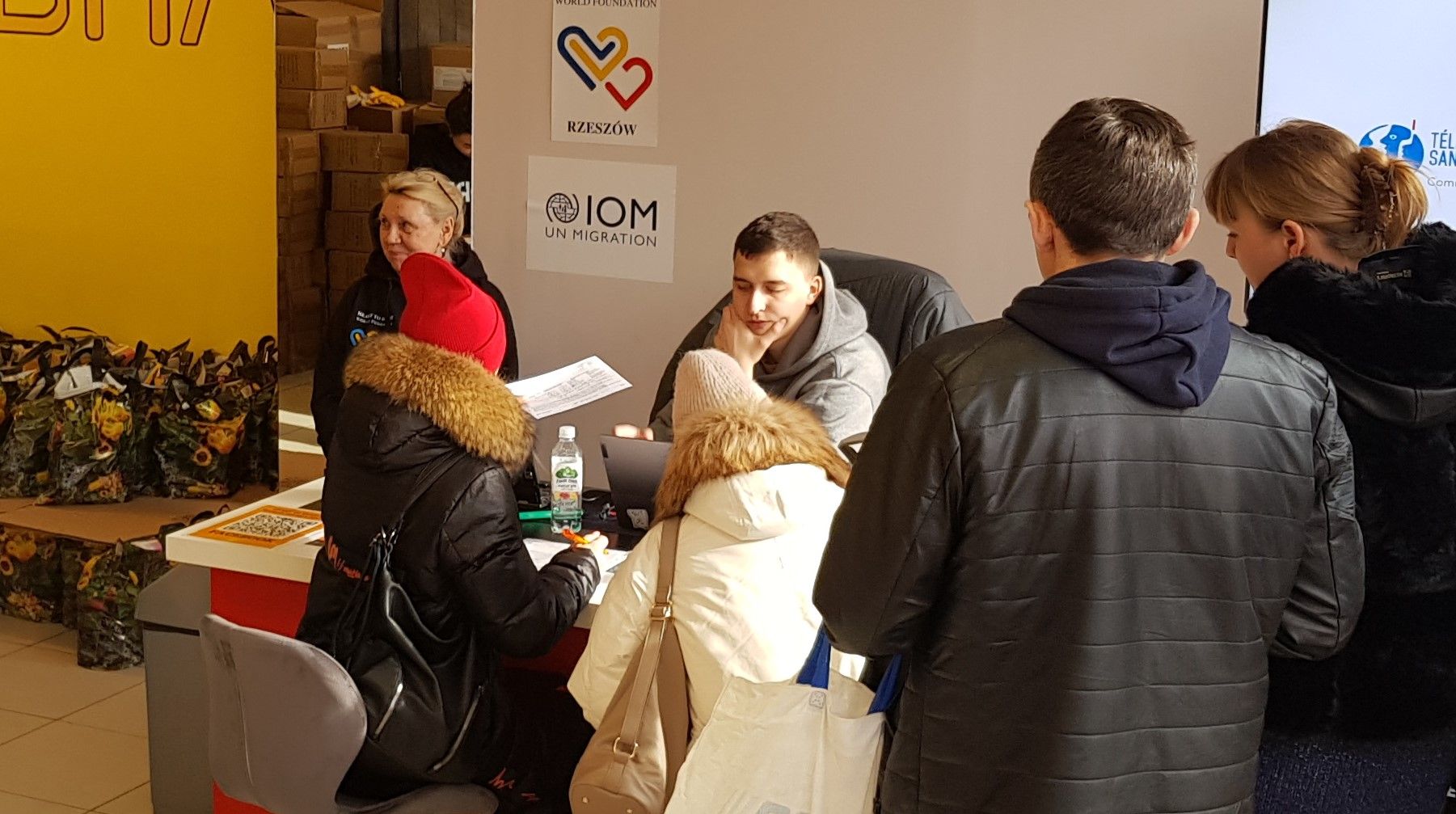 Poland is the largest host country for Ukrainian refugees, yet there are no collective shelters, only day care centers. Displaced persons are housed in various ways: hosted by Polish families or by their own means, thanks to income from working remotely or employment in Poland. It is harder for single mothers to access employment due to the difficulty to enroll their children in local schools.
Different types of reception centers have been set up, notably by the United Nations High Commissioner for Refugees (UNHCR), the Polish Red Cross, and the NGO CORE. These centers offer socio-economic integration workshops and language courses.
"The basic needs are a place to stay, for a while, something to eat, rest before they go back on their way."
- Anna, Polish Red Cross.
TSF is currently supporting 9 centers by disseminating essential information in a synthetic and readable form. This information comes from reliable sources: Polish government agencies, UN agencies and NGOs working in Poland. The topics covered are identified by the TSF team in partnership with these actors. They are diverse enough to give refugees the possibility to identify those that are useful to them at a particular time, as Lilia, UNHCR agent at the Rzeszów Protection Center, explains to us.
Lilia, UNHCR agent in Poland, explains refugees' need for information
It was difficult to foresee what the situation of the conflict would be one year later; and it is still difficult today to say what it will be in one year. So far, TSF has helped more than 33,000 people in Ukraine, Poland and Romania with connectivity and access to information.