---

Welcome to issue 15 of the Call to Comms!
This week, we want to share the stories and experiences of humanitarian workers. TSF supports local initiatives to help displaced people from Ukraine, and had the pleasure to talk to Hanna, who works with the Polish Red Cross, and Jana, who created an organization to provide essential goods to Ukrainian refugees in Poland. They shared their experiences with us.
💬 In this week's issue:
---
Local initiatives TSF supports: stories from those helping Ukrainian civilians

TSF supports local initiatives for Ukrainian civilians in Poland and in Ukraine through information diffusion and connectivity in collective centers. The organizations who make this possible work every day in the field to help displaced people. We went to meet those who help Ukrainian refugees every day.
Hanna (left) works for the Polish Red Cross in a city near the Ukrainian-Polish border, Przemyśl. The humanitarian center provides basic needs for 48 hours. It's a short stop for refugees to decide what comes next, so clear information is essential. Hanna shares her experience at the shelter: what it's like working there, what the refugees need, how the information helps.
"I think the screens are very helpful because they give information that we personally don't have.
Hanna, Polish Red Cross.
Jana (right) founded the Heart to Heart World Foundation, which manages an assistance and collection center, the Free Shop. There, Ukrainian refugees can register for what they need (hygiene products, for example) and when a donation comes in, they can access it.
Both women have a drive: meeting new people, and helping them.
"Being a part of this, talking to people, hearing their stories, was the best thing I'd ever imagined doing."
Jana, Free Shop.
Read their stories here: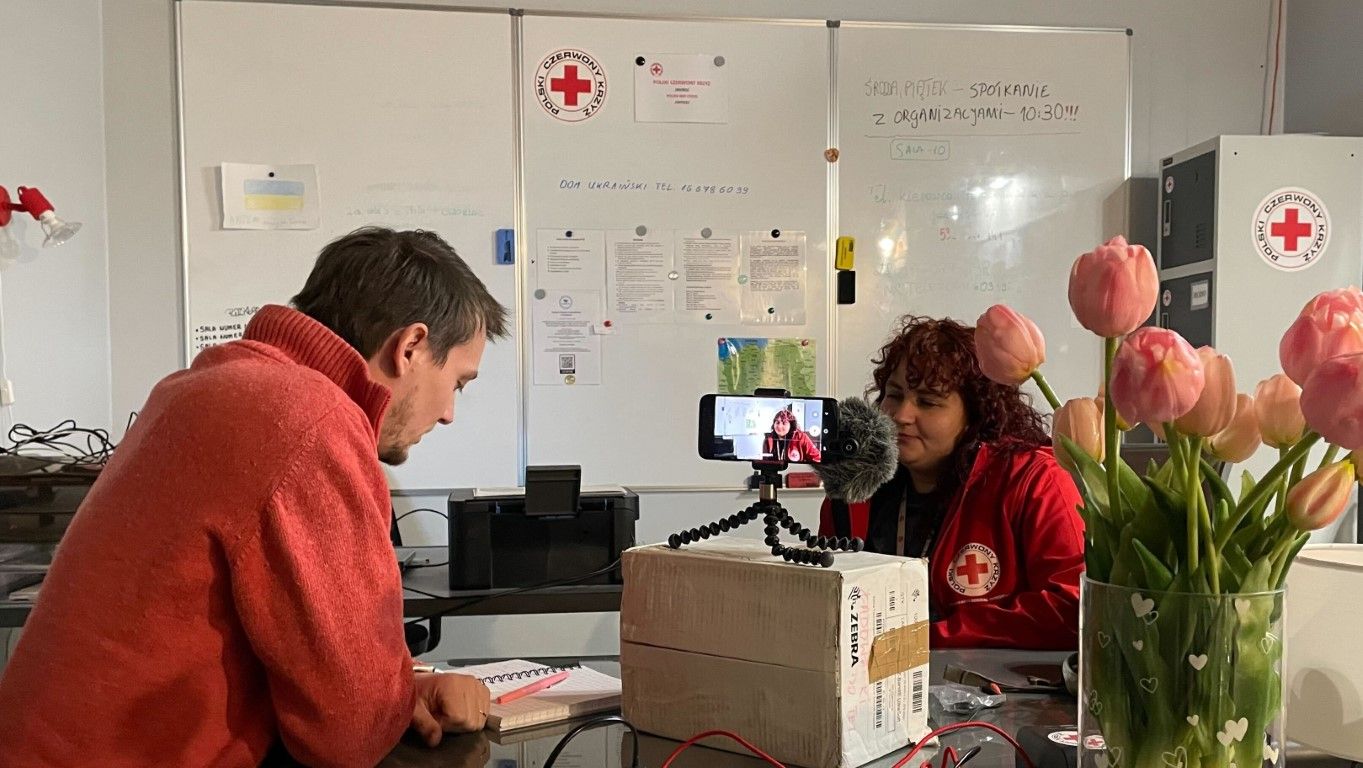 ---
🗞 Latest news from TSF, our partners, and the humanitarian and technological web
In a sharp spike, new report finds quarter of a billion people hungry. Devex News, the world's leading independent news organization covering global development, analyses the Global Report on Food Crises 2023. 258 million people in 58 countries were severely hungry in 2022, and the causes are interconnected.
Connect Humanity just launched the first ever 'Digital Equity Data Dashboard'. 7500+ civil society participants (CSO) from 136 countries shared the barriers they, and the communities they serve, face when it comes to digital equity. You can filter the data by country, and see what elements keep CSOs from digital equity, whether it is affordability, infrastructure, etc.
As part of their annual activity challenge, our longstanding partner, Inmarsat, are this year encouraging their employees to 'March in May' and in the process raise money for Télécoms Sans Frontirés. Well over 200 of their employees have teamed together to walk or run their way through the month, with the goal of seeing who can cover there furthest distance. We're so grateful for the support we receive from everyone at Inmarsat, as these fundraising initiatives are vital to our ongoing and future missions.
---
Running for TSF: the ITW Charity Run is coming up
The International Telecoms Week gathers every year a large number of stakeholders from the telecoms and digital infrastructure industry. It is organized by our long-time partner Capacity Media, and we are thankful to be featured as Charity Partner of the event this year again. The ITW 2023 starts on the 14th and ends on the 17th, with the run happening on the 16th.
Thanks to the support of Console Connect by PCCW Global, another long-time partner of TSF, the Charity Run will raise money to fund TSF's actions. We applaud their efforts and we're grateful for their kindness.
If you would like to donate as well to support our action and this event, you can do so here.
See you next week!
---