As a humanitarian NGO specializing in telecommunications, we have been providing Internet access to refugees for years. From community centers with Internet access in Niger for Malian refugees in 2007, to the Balkans crisis in 2015-2016 with direct Wi-Fi access for all refugees in the camps, and today, for the Ukrainian people fleeing war. With the increase in global displacement, our missions are increasingly focused on refugee crises, and we have seen firsthand the importance of connectivity in these situations. Based on this experience, here is why we believe that internet access for refugees is essential.
Reaching loved ones
Refugees often leave everything behind to embark on a perilous, long and exhausting journey, including family and friends who have no choice but to hope they survive. People fleeing their home often lose contact with their loved ones, and all they want is to get it back. When they arrive in a refugee camp, they are often tired, lost and worried about their loved ones.
"When you are alone, you have no one to talk to and you don't feel safe in the camp, so the internet helps you to stay awake at night and talk to your family. Without the internet, you are lost." An anonymous refugee in Lipa, Bosnia, 2021.
In 2015, TSF intervened in Serbia and Macedonia where thousands of refugees were denied entry. "Some migrants have been stuck at the border for several days and their only means of contact with the outside world is the internet connection we have set up,"  (Charles, head of mission in Idomeni, one of the refugee camps during the crisis, 2016.). We have continued our actions in the refugee camps that have been set up in the region.
"We lose contact with our family because we are separated from them against our will. The Wi-Fi allows us to know how the children are, if they are healthy, have enough to eat, and if our absence is not a problem." An anonymous refugee in the Lipa refugee camp, Bosnia, 2021.
Getting information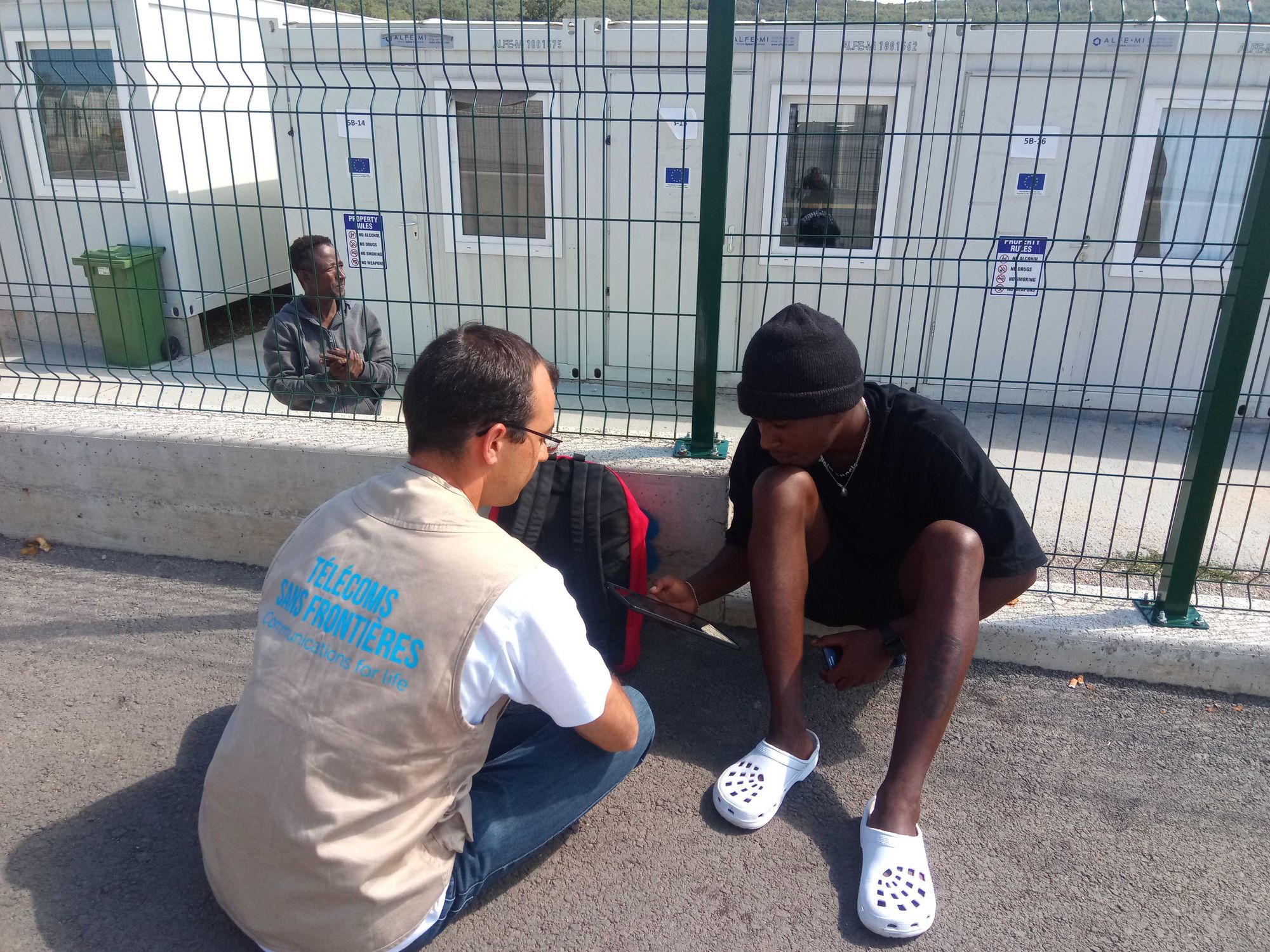 Besides getting valuable news and moral support from friends and family, refugees need the Internet for other purposes. Namely, knowing what is going on in their situation. For example, refugees stranded on the border of Serbia or Macedonia need to know about policy decisions that will directly impact them, such as immigration laws or border decisions. The need for information extends to general news and job offers.
"I use the internet to look for work, and to know what is going on in the world." An anonymous refugee in the Lipa refugee camp, Bosnia, 2021
Finally, refugees often need legal advice, or legal information in general, regarding their rights and citizenship status. One of the specific goals of our mission to the Canary Islands in 2021 was to provide connectivity to refugees so that they could perform administrative tasks after arriving in Spain and be able to communicate with their lawyer if necessary. Information about legal rights is essential for refugees, so we include it in our information displays in other missions, like in Poland or in Mexico, which also include educational content for youth.
Access to education is fundamental and too often lost for refugee children and youth, especially those who remain in camps for long periods.
Access to education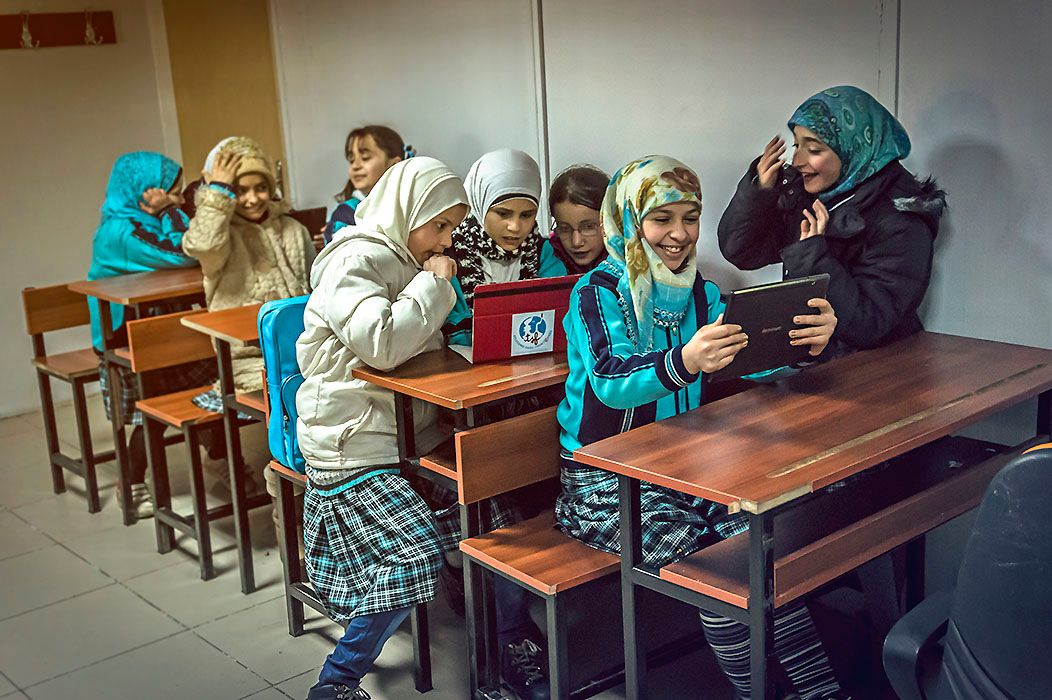 In Ukraine, 22% of the Internet provided in collective centres is used for educational purposes, like remote learning.
"We have a lot of children here who need the Internet. They study both online and offline, and that's why we really need this Internet." Tetyiana, a Ukrainian IDP in one of the collective centres where we provide Wi-Fi, 2023.
Education gives refugees more opportunities for their future, an escape from their everyday lives, and can ease their integration. In "Education in emergencies" (2007), Margaret Sinclair, former head of education at UNHCR and an advocate for education, highlights a few ways how education can help. It provides a sense of normalcy, restores hope, promotes psychological healing in a safe space - and provides a safe place where marginalized groups are less at risk of being exploited or working in dangerous conditions.
Connectivity can also enable refugees to learn a new language, feel more confident in the next steps of their forced migration, and adapt to their new environment.
Mental health benefits
Daily life in the camps is difficult for the refugees who often spend months there, having no choice but to leave what they know and embark on an exhausting journey to safer living conditions.
"You know, in Congo I was facing physical violence but here in the camp is mental violence. I don't know which is worst." Fatimada, 38 year old Congolese refugee, in the Lesvos' refugees camp.
The mental health of refugees is often precarious, scarred by what they have had to flee, anxious and worried about their loved ones, living in temporary and unstable conditions. They have to wait for legal or administrative decisions, cannot work, are often separated from most people they know and love.
"We don't do anything here. Just wait and pray. I want to work, I want to live. I want to do something. And this is why it is important to have internet. Because it allows us to be distracted, at least a little bit, and to be in touch with friends and family. (...) People need it. We would go crazy otherwise. It's good for us." Fatimada, 38 year old Congolese refugee, in the Lesvos' refugees camp.
The importance of distraction should not be underestimated. In difficult and stressful times, having the opportunity to think about something else can improve mental health, decision-making and reduce anxiety. The overall impact of distraction on a refugee camp can make a significant difference: less anxiety, less agitation, less boredom contribute to a more peaceful camp.
Conclusion
Access to information, education, psychological support, distraction - and perhaps most importantly, keeping in touch with loved ones: Internet access for refugees can make all the difference. Refugees can make informed decisions, make their own choices, have control over that, if nothing else. We strongly believe that internet access is essential for refugees, and we will continue to do our best to provide this access when we can.
Sources:
Sinclair, M. (2001). Education in emergencies. Learning for a future: Refugee education in developing countries, 1-84.