25 years on, we are proud of our commitment to ensuring that communication is recognised as humanitarian action and an integral part of crisis response.
Monique Lanne-Petit, TSF Director and Co-Founder.
25 years ago, TSF as we know it was created, and one of the key moments happened in Kosovo, in July 1998. Since then, TSF has helped 20 million people in over 80 countries. To celebrate the work of our team and the importance of communication in humanitarian crises, we highlight each year of TSF's history, with a mission to illustrate it.
We couldn't possibly cover all the 150+ major crises we've been involved in over 25 years, but we can take you on the most defining missions in our history.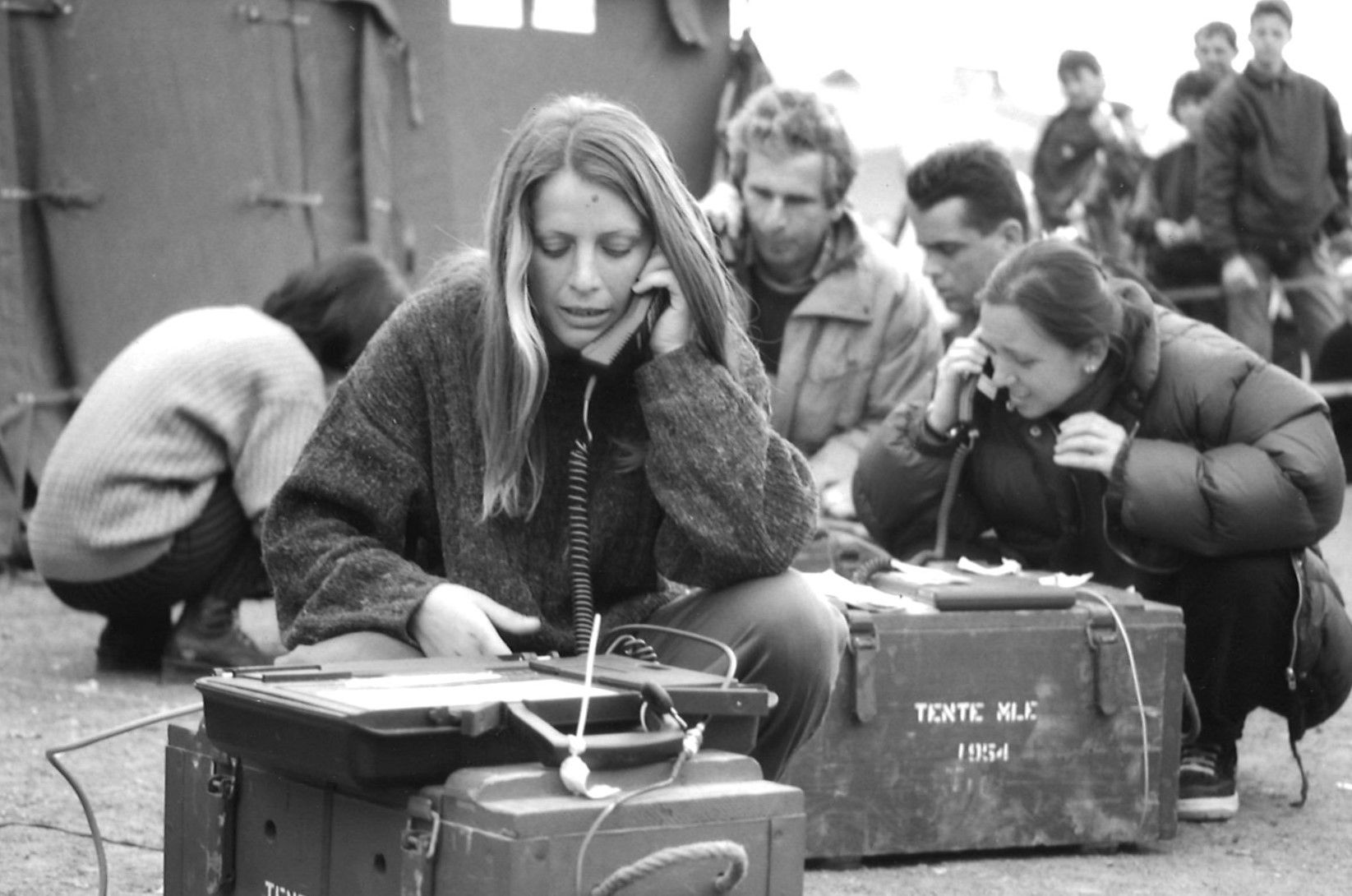 Kosovo, 1998
Monique Lanne-Petit and Jean-François Cazenave, co-founders of TSF, remember how it all started, in July 1998, Kosovo.
"The people who came to us would take out a piece of paper from their shoes with names and phone numbers on them. People to contact for them abroad, they asked us. And if they hid them in their shoes, it was so that the authorities would not find them in case of a search at the checkpoints. But we couldn't continue to call all these contacts when we returned to France."
So the two volunteers acquired a telephone equipped with a satellite antenna, and brought it along the Kosovian border, in July 1998.
"At the foot of the mountain, the Red Cross and charitable organizations were already there to help [displaced people]. But to our amazement, people were flocking to us to make a call. What we had imagined was proving to be true: their need to communicate was real, and as vital as their need for food and medical care."
TSF was ready to be created.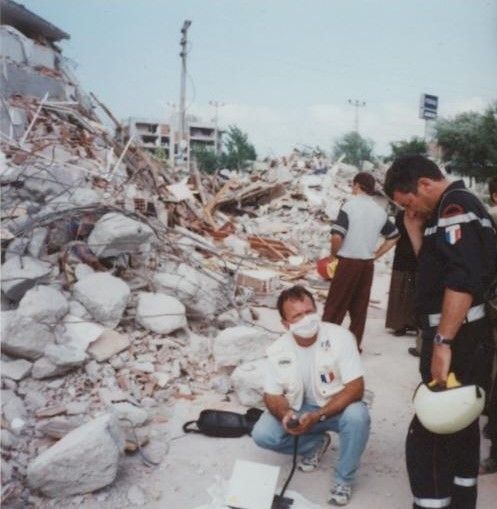 Turkey, 1999
This photo comes from the first natural disaster in which TSF intervened, in 1999, in Turkey. The disaster was the Izmit Earthquake, a violent earthquake with a 7.4 magnitude, causing the death of 17,000 people and leaving more than 250,000 people homeless. Jean-François Cazenave, co-founder and President of TSF (left), recounts his arrival on the scene:

"The image is still clear in my mind: we arrived at a huge soccer stadium, with tents in the center, harsh lights. It was the middle of the night. As soon as I opened the car door, a terrible smell came over me. To leave our parking space, I had to walk alongside a pick-up truck - I turned my head, and there were 6, 7 corpses inside. That's when it hit me. It was the first time we'd seen anything like it. In those days, relief workers relied heavily on walkie-talkies. But this meant they couldn't contact any outside lines. In this photo, I was installing a connection at the foot of a civil protection intervention center, enabling workers to contact their headquarters. It was an absolutely necessary complement to humanitarian coordination".
This mission highlighted the importance of connection for humanitarian coordination during natural disaster relief. This was the first natural disaster TSF deployed to, but not the last - the most recent being for another earhtquake in Turkey in February.
"It was the first time we'd seen anything like it."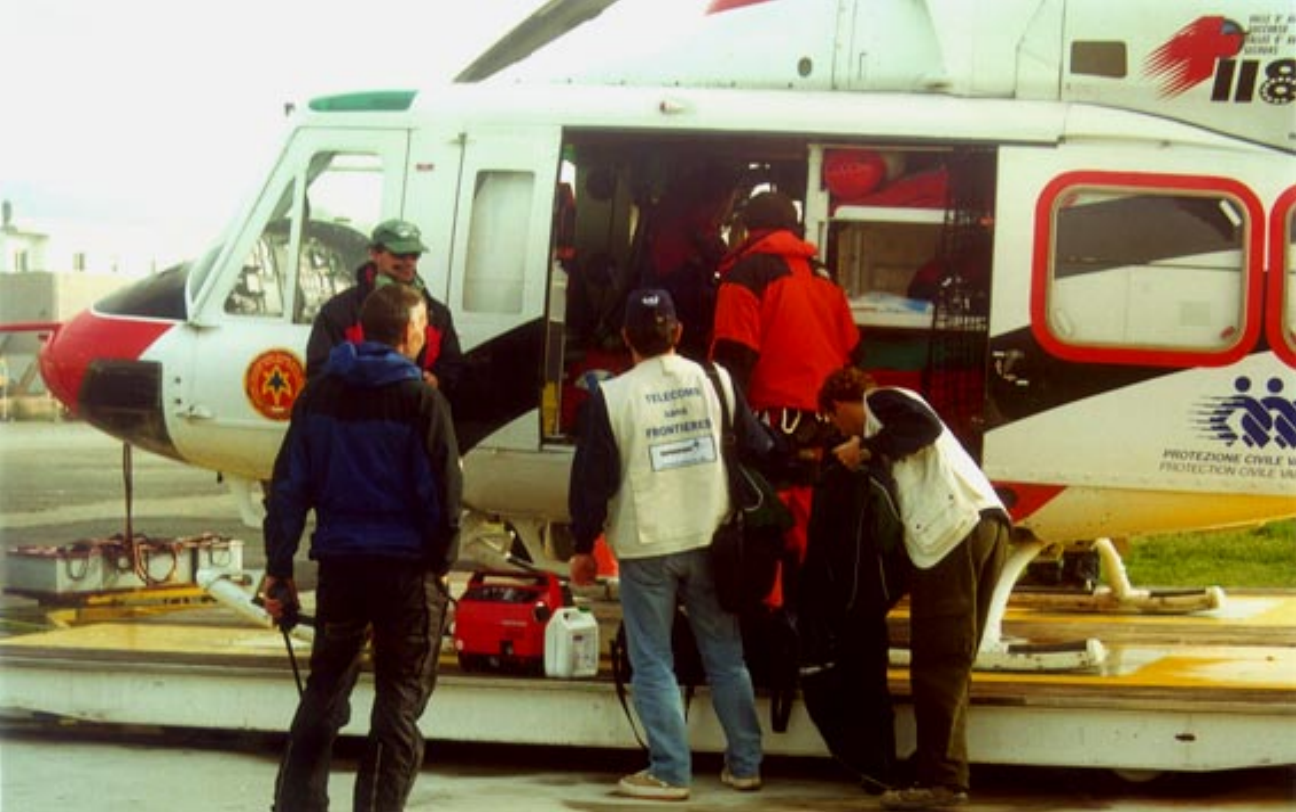 Italy, 2000
On October 15, 2000, torrential rain fell on the Aosta Valley in Italy, causing devastating floods and mudslides, destroying villages and cutting all means of communication. The TSF team arrived at the scene of the incident 14 hours after the official announcement of the request for international assistance, bringing 16 satellite telephone lines.
The first aim of TSF was to install priority lines at the crisis center, so that rescue teams on the ground could reach the center, coordonate relief operations and, for firefighters in neighbouring valleys, reach the affected populations. The different valleys were isolated from each other, making the helicopter pictured on the photo the only means of transport and supply.
Télécoms Sans Frontières then provided satellite lines to several hundred affected people, so they could reach out to their families.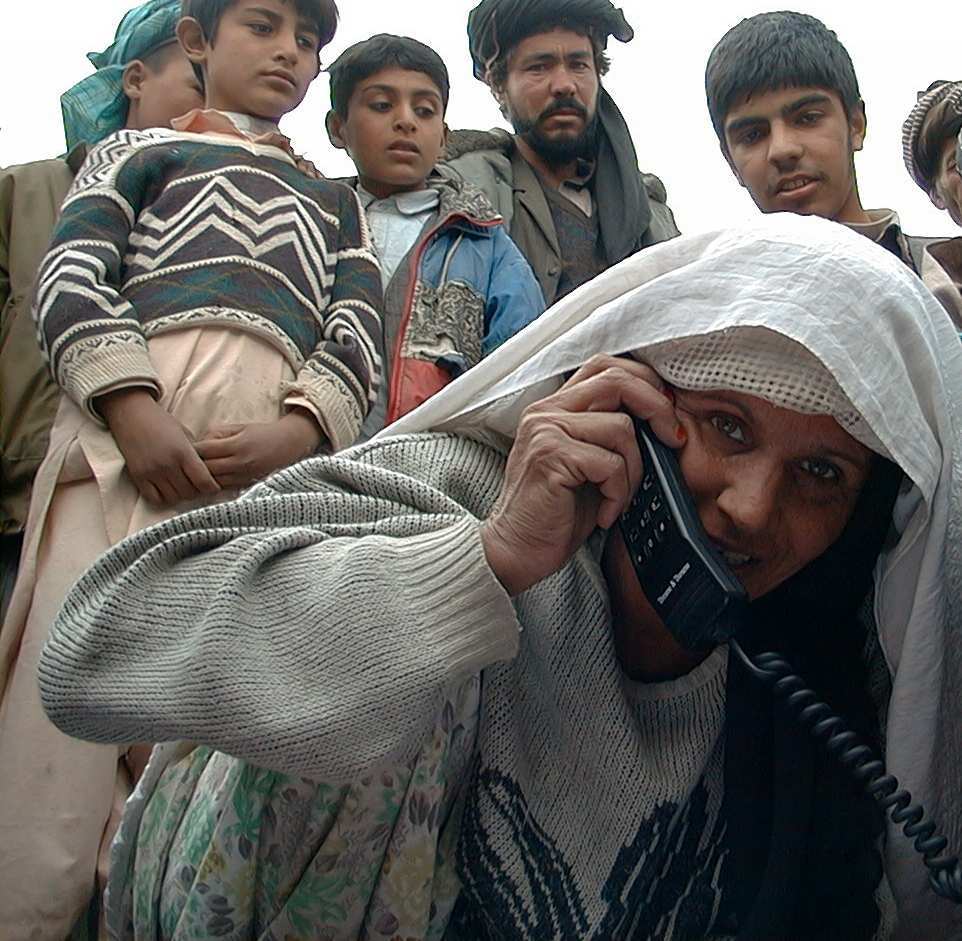 Afghanistan, 2001
"The team installed TSF's first satellite Internet connection"

In 2001, the war in Afghanistan and the drought led to massive population displacements and increased humanitarian needs. The country's telecommunications infrastructure was underdeveloped at the time, making it all too easy for families to be separated from one another, and for individuals to be isolated from their loved ones.

TSF deployed to Afghanistan - or at least the nearest thing to it. With the country refusing access to international support, INGOs like TSF had to set up camp close to the border.

"I was stuck in Uzbekistan, just a few meters from the Afghan border, but separated by a river. Monique joined me a little later - I remember her coming out of the airport. I've never seen anyone carry so much equipment. The TSF team finally reached Afghanistan and installed TSF's first satellite Internet connection, for the United Nations." Jean-François Cazenave, President of TSF.

This satellite internet connection, a first for TSF, supported humanitarian coordination and affected populations.
The TSF team finally reached Afghanistan and installed TSF's first satellite Internet connection, for the United Nations.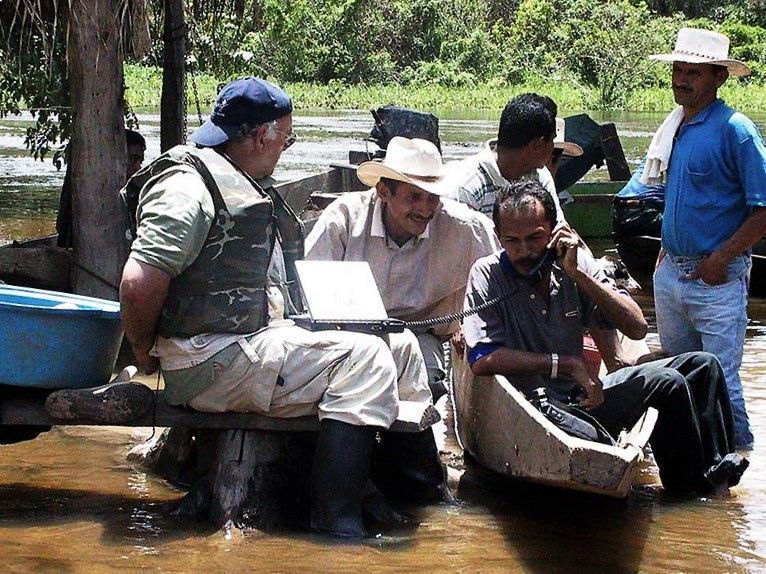 Venezuela, 2002
In July 2002, the Apure River overflowed its banks in Venezuela - in just a few days, the equivalent of a year's rain submerged the region, displacing 40,000 people. Although a semblance of cell phone coverage remains, it is over-saturated and insufficient. Internet and fax are completely out of service.
The TSF team sets up a center of communication for the Venezuelan Red Cross and other relief organizations. They also provide satellite phones to civil defense units and to doctors who use it in the hospital or in the field.
During this mission, TSF offered to 800 families the possibility to contact their loved ones. The sentence the TSF team heard most, as people called their friends and family, was "We are well. We have lost everything but thanks to God we are alive.".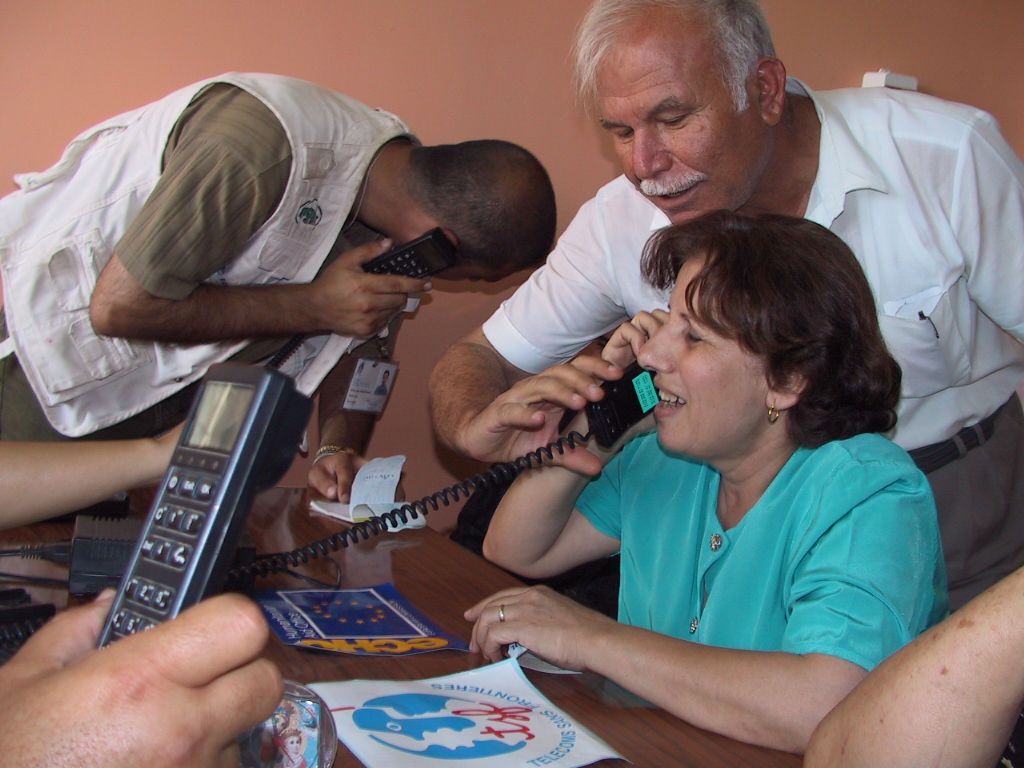 Iraq, 2003
When the Iraq war began, many Iraqis found themselves isolated from the rest of the world, with most telephone networks out of service.
TSF deployed to Iraq to support affected populations and organizations. With the support of the European Civil Protection and Humanitarian Aid Operations (ECHO) - a first for us -, TSF set up a telecoms center for NGOs and the population in Baghdad.
For organizations like CARE, Médecins Sans Frontières and Première Urgence Internationale, this meant better coordination between organizations, their headquarters and their partners. During the mission, more than 80 organizations were supported.
For affected populations, TSF conducted telephone operations with mobile satellite equipment to reach areas with the most urgent needs. More than 100,000 people were helped through these calls!
This mission had to end a few months later due to security incidents that forced TSF to evacuate several times.
Iran, 2004
In 2004, a magnitude 6.3 earthquake struck southern Iran, trapping tens of thousands of people under rubble. This was the deadliest earthquake to hit Iran since 1990, with more than 43,000 casualties, 50,000 injured, and countless without shelter. Infrastructures had been destroyed - telecommunications didn't escape the damage.
What did TSF do?
Set up a high-speed Internet and data transmission center for rescue teams to coordinate their efforts
Carry humanitarian calling operations - but to the numbers of injured, dead, and the lack of information on people's location limited the operation's reach
Establish a mobile telecoms center in an Iranian Red Crescent ambulance
Monique Lanne-Petit recalls one particular moment:
"We had opened a Telecom centre in the International Rescue Team camp. Zana, a 10-year-old girl, had been transferred to a field hospital for the most seriously injured. She was in critical condition, and a medical evacuation was the only hope of saving her. The tremor had destroyed her house, and out of a family of 7, only her father had managed to escape death. In this context of chaos, thanks to satellite technology and the technical skills of the TSF team, we were able to give this little girl an identity in record time. I will never forget the chain of emotions: excitement, anguish... and then this great joy, this glimmer of hope shared with her father and the medical team: we had succeeded, Zana could be saved!"
TSF supported immediate relief efforts, with services beneffiting 63 organizations and local authorities.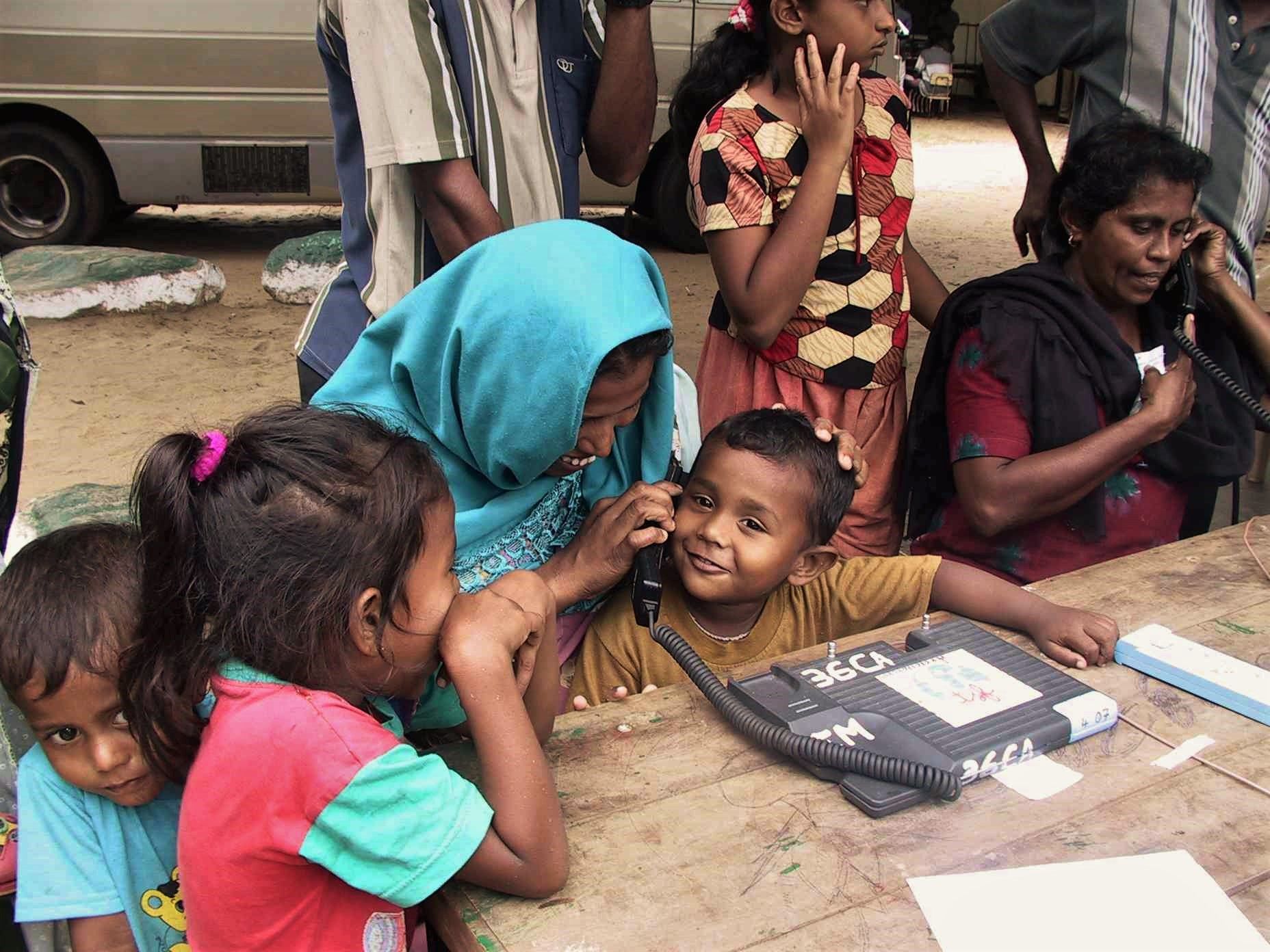 Sri Lanka, 2005
The day after Christmas, December 26, 2004, a 10-meter-high wave caused by a strong earthquake swept across Sumatra, Sri Lanka and Thailand. TSF immediately deployed to Sri Lanka and joined the massive mobilization less than 48 hours after the earthquake.
At the time in Sri Lanka, many families were single-parent households, as one parent often travels abroad to find work and cannot afford to pay the telephone bill. Imagine the distress of a parent after a disaster of this magnitude, far from his or her family, with no news from home. TSF has carried out humanitarian calling operations that have benefited over 3,000 families. Here's the story of one of them:
A 4-year-old boy was living with his father and three siblings. Their mother was working away, and the boy hadn't spoken to her in three years. After several attempts to find a number to contact her, the TSF team and the family finally managed to reach her! The 4-year-old boy was about to celebrate his birthday. When his mother asked him what he would like most for his present, the little boy replied: "Nothing... I only need you!"
In addition to its humanitarian appeal operations, TSF has supported 163 NGOs and institutions in their relief efforts.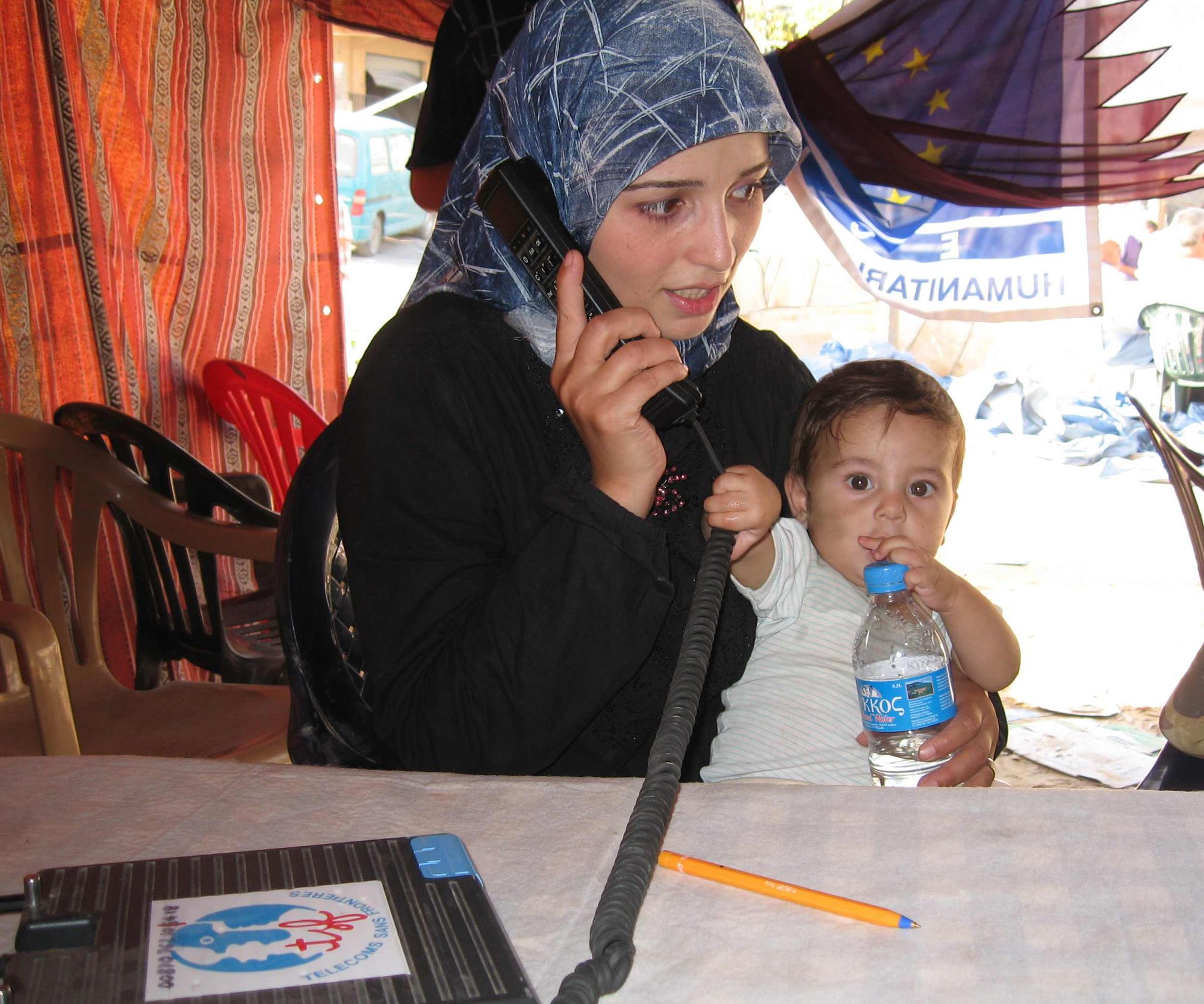 Lebanon, 2006
TSF becomes the first IONG partner of the United Nations through the Emergency Telecommunications Cluster.
The conflict in Lebanon caused destruction in telephone networks in the Southern part of the country. To coordinate their actions, NGOs need to share information, data.
"The team from TSF went to great lengths to provide support to the Humanitarian Information Center at a time when we faced significant challenges with data connectivity. Their support was crucial to getting our operations started." An official from OCHA shared after the mission.
TSF was identified as "first responder" in the UN Emergency Telecommunications Cluster, and supported 22 organizations by providing connectivity.
"TSF's support was crucial to getting our operations started."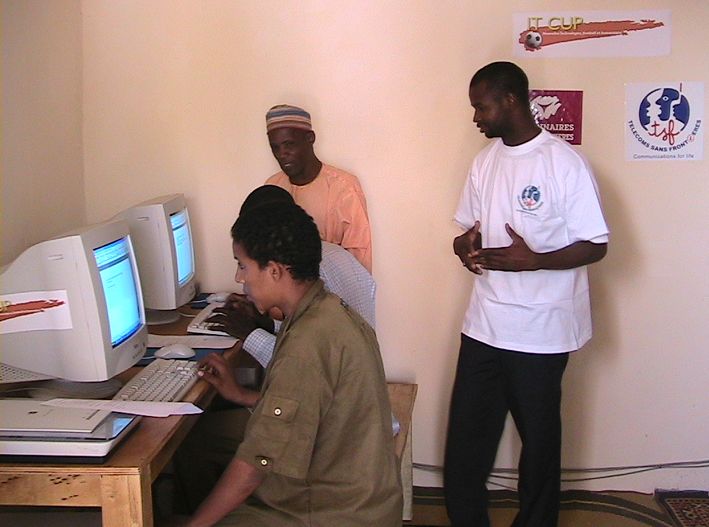 Niger, 2007
Due to drought and a locust invasion, harvests were insufficient in 2004, and famine threatened the lives of thousands of people. As early as 2005, TSF organized call-out operations for the affected populations, forced to leave and often separated from their loved ones. At the request of NGOs working in the field, TSF set up an emergency communications center.
But the story that interests us today began in 2007, when the TSF team worked with the Nigerian government to set up an Early Warning System. By monitoring market movements - when inflation makes food hard to buy - populations can better predict and prepare.
"I remember my discussions with the representative of the NGO Veterinaires sans Frontières who explained to me that thanks to TSF and its installation in Dakoro, they were going to be able to prevent future food crises with a more regular monitoring of the agricultural and livestock markets by promoting the dissemination and exchange of information among farmers and breeders in the Dakoro areas", recounts Karim Mokhnachi, founder of the IT Cup - the first IT Cup center was created for the occasion.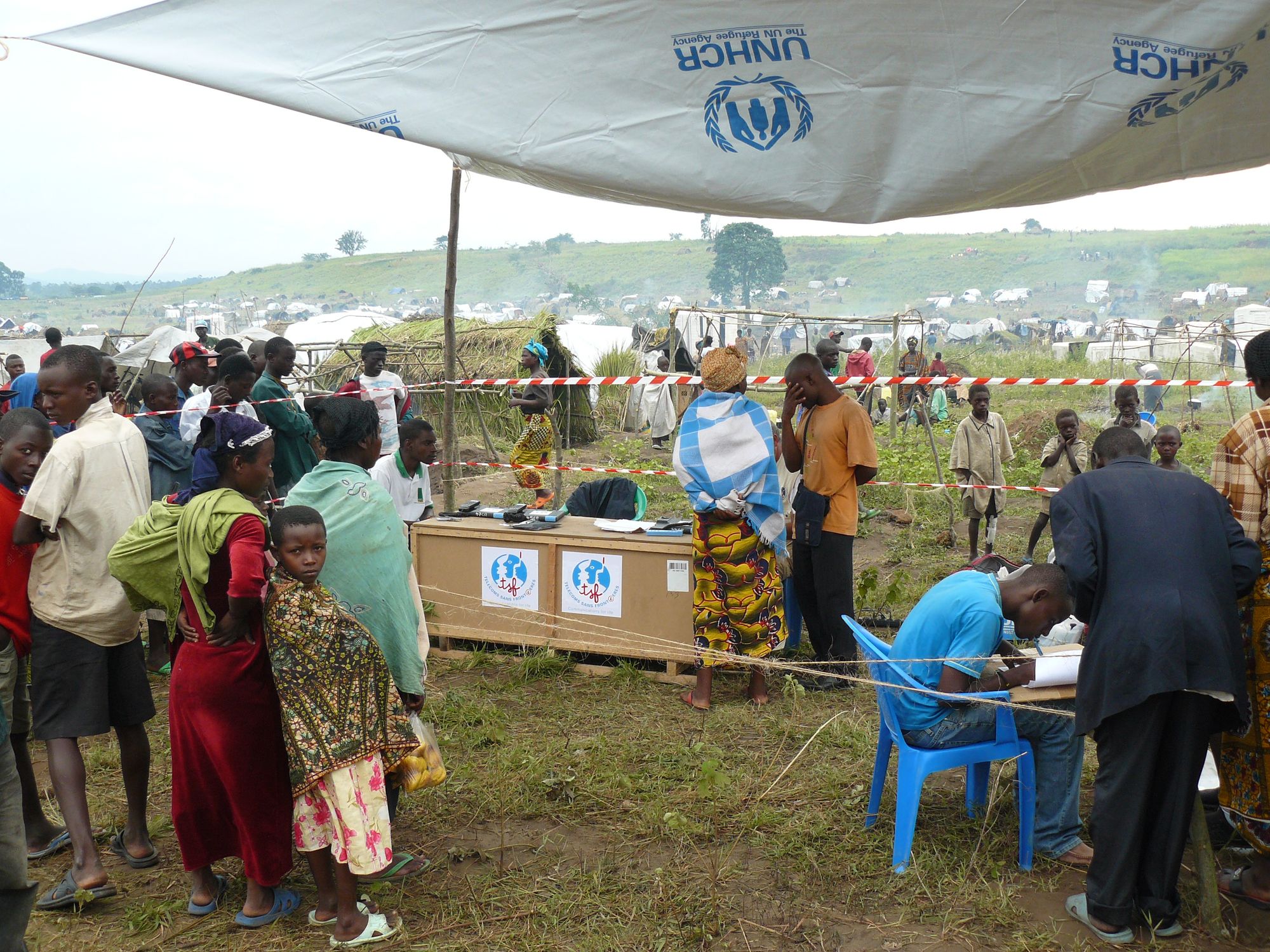 Uganda, 2008
In 2008, tens of thousands of people in the DRC were forced to flee the conflict and cross the border into Uganda. Many people in some refugee camps have walked for days to get here, and there is no reliable Internet or mobile network. TSF has provided free calls to those affected, who want to know where their loved ones are, if they are all right, or even if they are still alive.
The team managed to put almost 2,000 families in touch with their loved ones, many of whom were still in the DRC, where their lives were in danger.
TSF also supported all UN agencies, NGOs and local authorities on the ground with a satellite communications center: "Without the TSF system, communicating to the world and our offices would have been difficult for the first weeks of this operation".
Sankoh Bai Mankay, from the World Food Program in Uganda.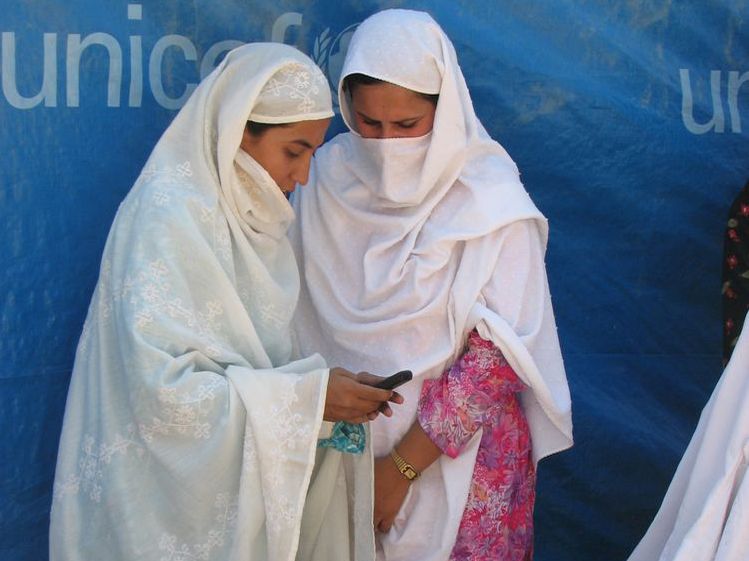 Pakistan, 2009
The conflict between the Pakistan army and the Taliban forced more than 2 million people to flee northwest Pakistan, in dangerous conditions. TSF provided more than 3,000 calls to civilians affected, and often injured by the violence. But civilians were not the only ones impacted by the violence. Monique Lanne-Petit, director of TSF, remembers the very difficult security issues:
"Overcoming difficulties is part of the humanitarian commitment, but since 2001, especially following the September 11 attacks, humanitarians have become a target. Security measures led us to repatriate our team on mission in Peshawar, Pakistan. Only the Head of Mission remained on the ground to bring the mission to an end in the best possible way. And then the call... from his room, which had just been blown up by a terrorist attack.
Injured, but alive, he was going to be sent home. This situation showed the risks that our commitment entails. Risks that must be taken into account by each one of us, but also as part of a team. We are all responsible for protecting ourselves, our team and for never forgetting to protect the populations we are working for."
"Only the Head of Mission remained on the ground. And then the call... from his room, which had just been blown up by a terrorist attack."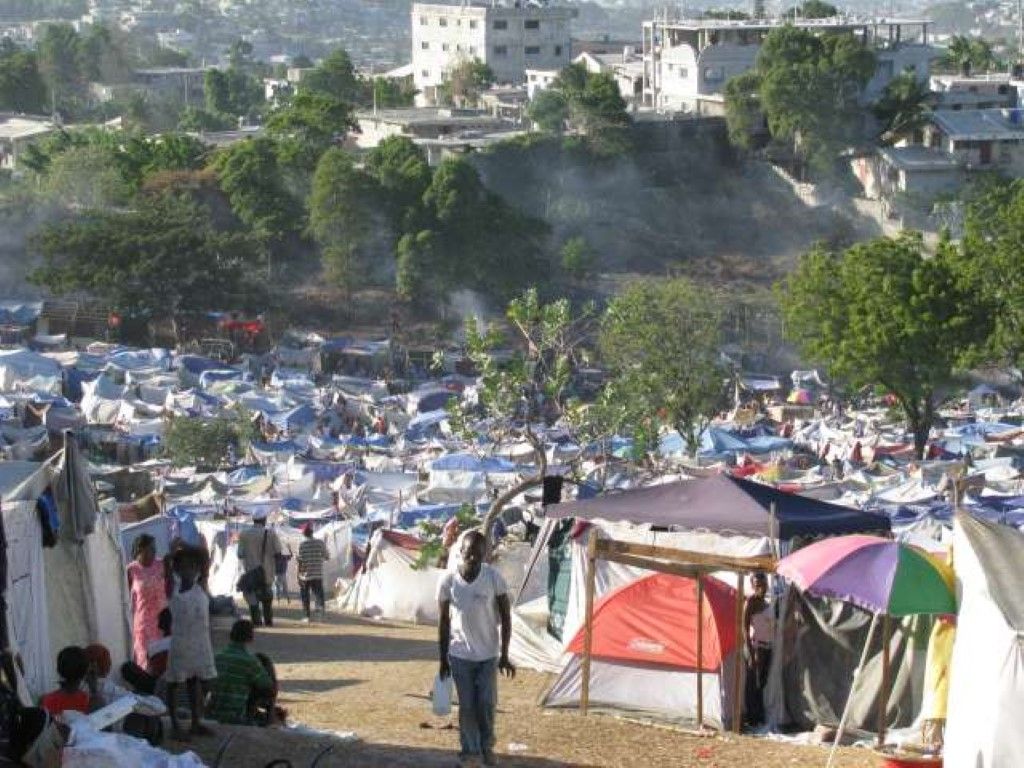 Haiti, 2010
The 7.0 magnitude earthquake that hit Haiti in 2010 has had an impact on many. More than 222,000 people perished; many more were injured, lost everything. For one of TSF's members, Sébastien, this was his first big-scale mission, and he still remembers the scene vividly:
"When we think about humanitarian crises, we think about what we see in the news, photos and videos of buildings destroyed or burning, of children in hospitals, of people in distress, all of it underlined by the monotone, emotionless voice of a reporter. What I discovered on my first major deployment with TSF was what is not transmitted through a TV set:
The smells of fuel; at the airport where we were sleeping, of sweat; from the people living under a burning sun with limited access to water to wash, of garbage; left in the open, of death emanating from the collapsed buildings.
The feeling; of stress to do our job well, of fatigue; being waken-up by mosquitos at 4:00AM, of hunger, of heat.
And while, yes, it was hard; I was amazed at how the team and everyone around us managed to so quickly adapt and thrive in this environment, overcoming obstacle after obstacle, responding to the overwhelming needs.
Was it the adrenaline of being there that kept us going for 6 weeks? Was it the smiles on the peoples' faces when their call went through? Was it the teamwork between us and the local volunteers?
Haiti surely showed many people what it really meant to be a humanitarian emergency responder and it certainly showed me where I wanted to be."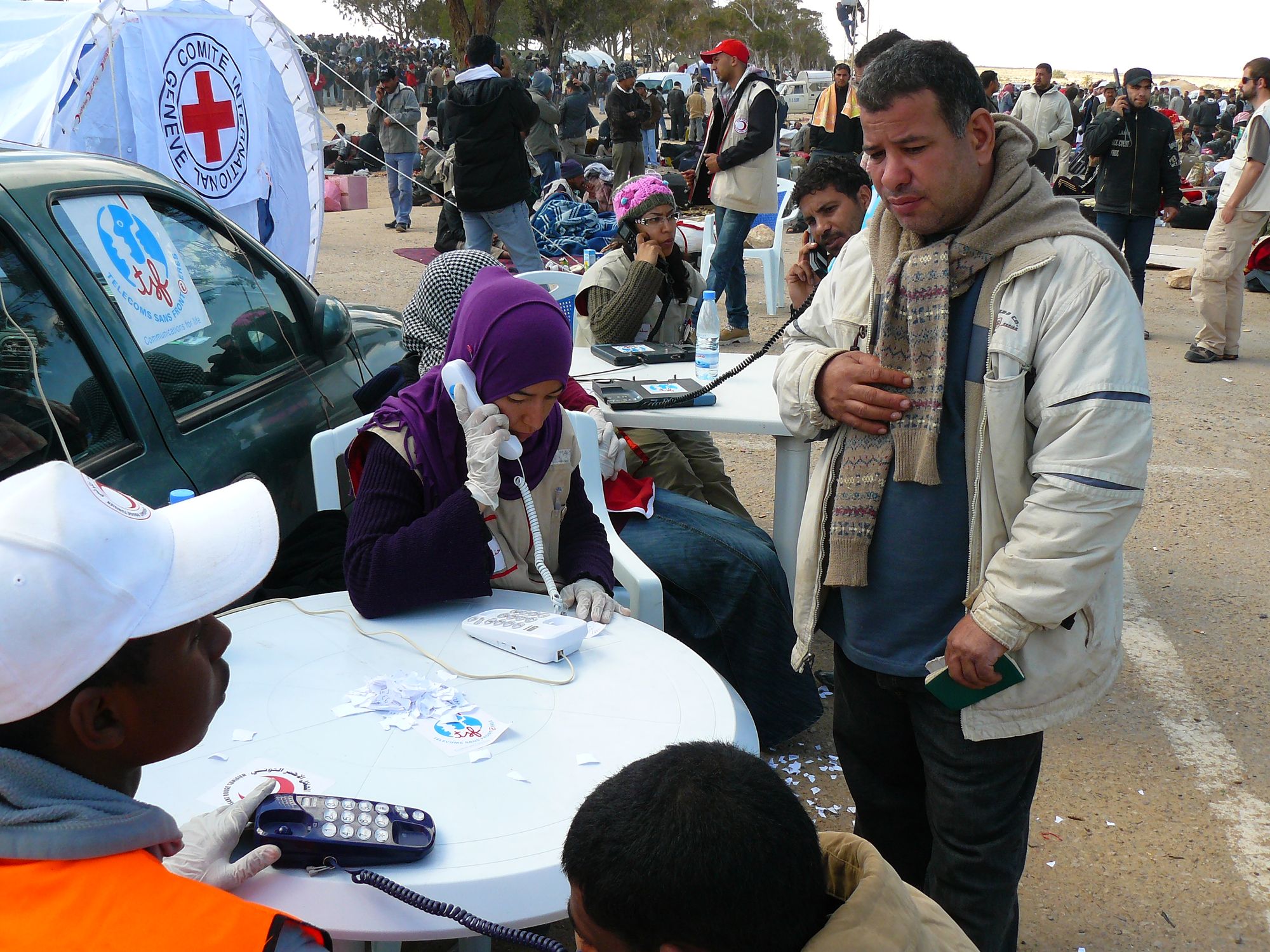 Libya, 2011
In February 2011, more than 500,000 people fled the violence linked to the starting civil war and found refuge in neighboring countries. TSF deployed to the Choucha Transit Camp in Tunisia, near the Libyan border. From 4,000 to 10,000 people were arriving in the camp daily.
A TSF staff member recalls: "We enabled refugees from Ghana to give news to their families. But every day, we found them next to our centre, with no solution for repatriation... As there was no Ghanaian consulate in Tunis, we decided together to call the Ghanaian consulate in Algeria. The person we spoke to assured them of his official assistance, and after few days and several phone calls, the Consul's representative himself arrived in the camp and took charge of the Ghanaian nationals."
TSF's telephone operations have enabled more than 30,000 people fleeing Libya to contact their loved ones and get help in this unexpected situation.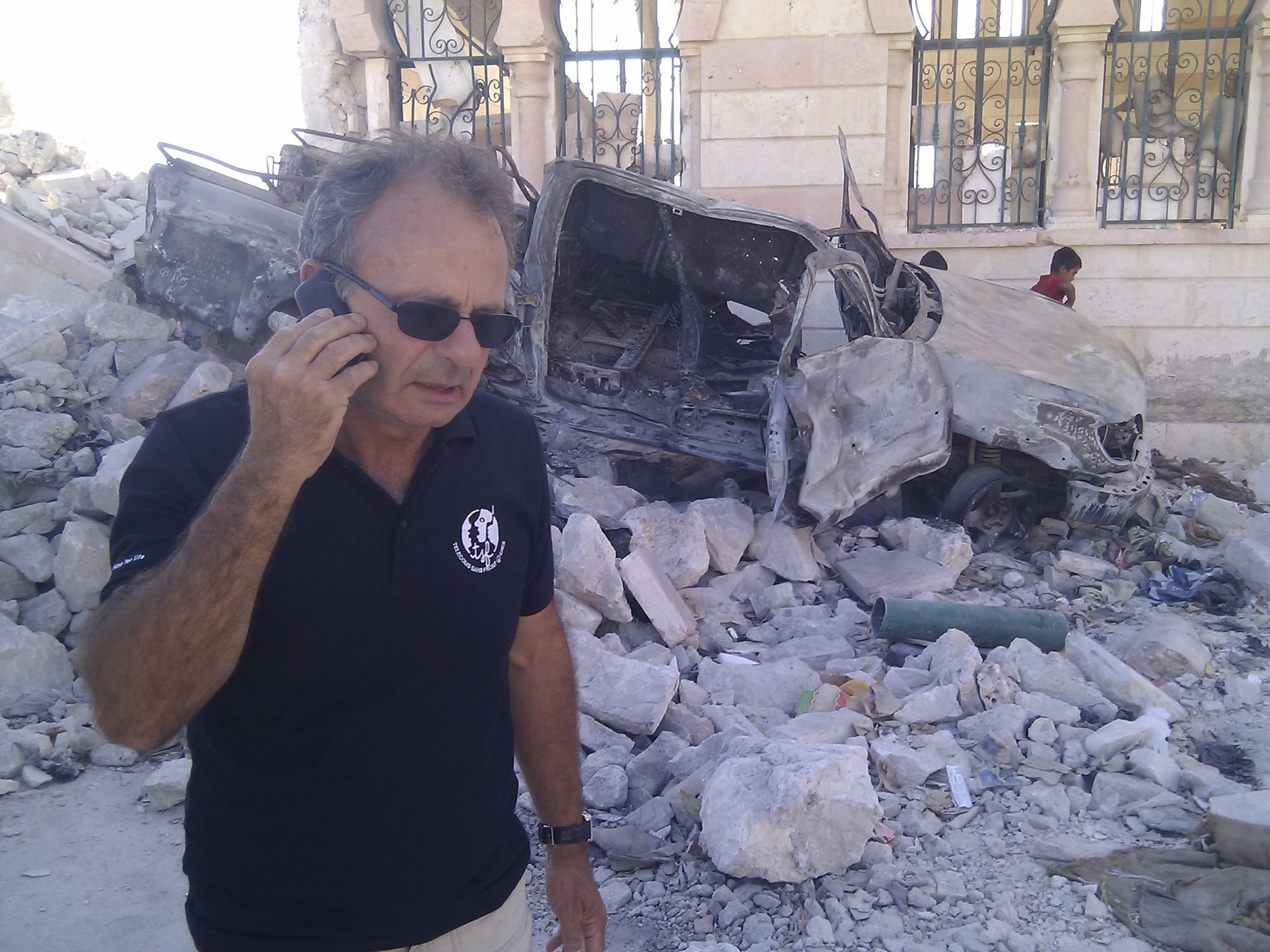 Syria, 2012
The civil war in Syria started with protests in March 2011. The situation is worsening month by month and TSF decides to support medical operations with emergency connectivity. Ahmad joined TSF's team as an engineer and shares his memory with us:
"I remember the first connection we installed in the Hospital of Alhader to help the medical teams and the population, who were living in very difficult conditions.
I also remember that, with the first money I earned working with TSF, I went to a shop and bought a battery, a solar panel, and lights, because we didn't have lights in our house for six months. Until then my sister had to study and read books by candlelight.
Then, after I got injured, I couldn't move my hand for 6 months. I was in a very bad situation, but thanks to TSF's education activities I started to teach Syrian children with tablets, and everything changed for me."
The crisis in Syria is not over. TSF continues to support medical centres with connectivity while the situation is - if this is possible - even worse after the earthquake from February 2023.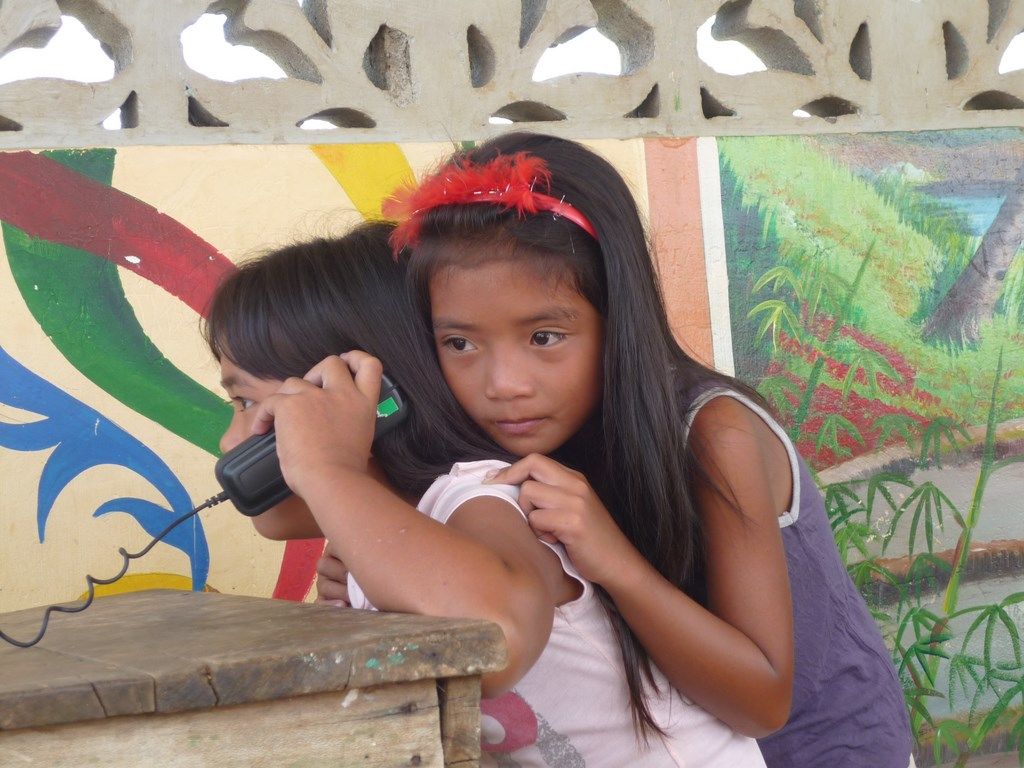 Philippines, 2013
The country was hit hard: more than 7,000 people died and more than 4M were displaced. Paul was part of a team who reached an isolated island to allow people to contact their loved ones:
"Our bike broke down so we walked. I felt terrible: The island was demolished, people were hurt, agriculture was ravaged, houses were destroyed—and I was already exhausted from the first part of the mission. We got to a village and a long line formed in order to call their relatives, as always.a seven-or-so-year-old girl who tried to call her mother, who she had not heard from since the storm, because her mother worked in Middle East and her dad in Manilla. The call did not go through and she was devastated. She got back in line and patiently waited, then she tried again. Thank god it worked. Horrible and beautiful."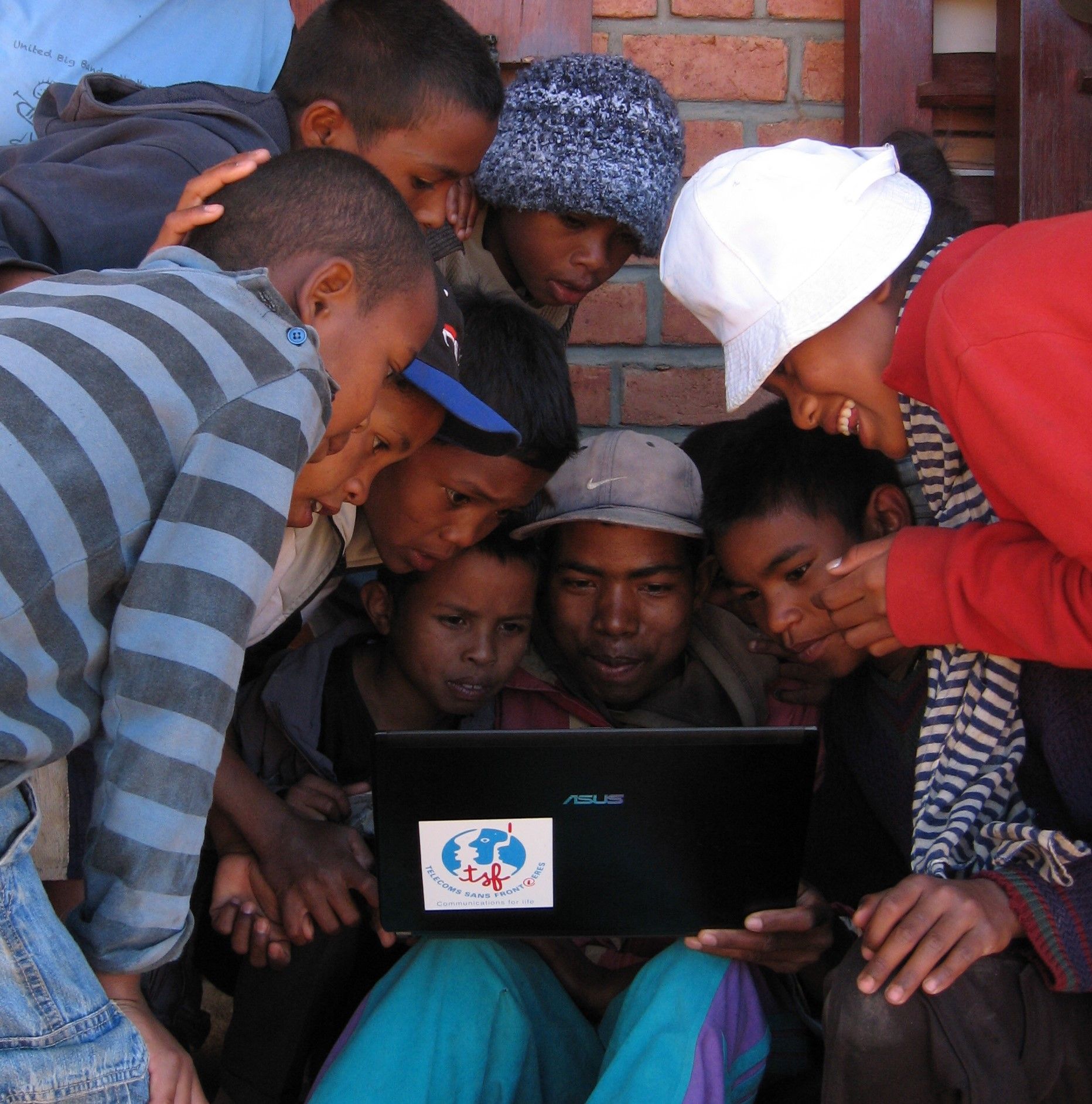 Madagascar, 2014
The IT Cup centre in Miarinarivo has been open for 2 years and activities are starting to take place around the cybercafé.
Irinah is in charge of the project, and she shares with us the effects of the digital inclusion activities that she sees in the participants:
"The cooks and guardians left school very early. Some of them can barely read and write and even if they learned French at the time, they use it very little in their daily lives. This makes them even more vulnerable.
We first used the tablets to improve their oral and written comprehension. We develop small French exercises via applications that offer images and interactive quizzes.
Three months later, they are already more fulfilled in their daily lives, they gain confidence in themselves and use the internet more easily. They also feel less self-conscious and more confident in front of others."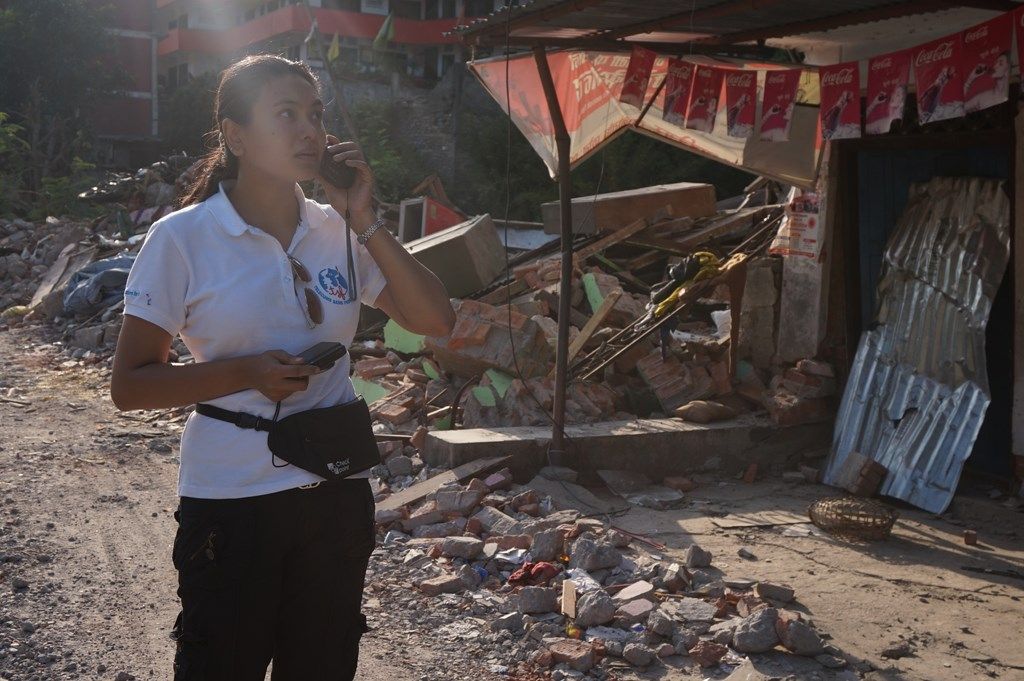 Nepal, 2015
On 25th April 2015, a devastating 7.8 magnitude earthquake hit Nepal. The first images that reached us in France suggested that Kathmandu, the capital and most populous city of Nepal, had been badly hit. So this is where the TSF team deployed. Florent, part of the team, recounts his arrival:
"When we arrived on the spot, we realized that the most affected areas were also the most isolated, in the north of Kathmandu. This is why we found ourselves a few days later trying to reach the village of Laprak, in the Gorkha valley, which was almost completely destroyed. Images of desolation when we arrived there after several hours of walking.
Several thousand Nepalese, mainly living in the village of Laprak and other neighbouring villages, had to take refuge more than 500 metres above the village and were desperately waiting for help.
It was up there, at an altitude of 3,000 metres, in the middle of the Himalayan mountain range, that the TSF team set down its bags to carry out more than fifteen telephone operations in the seven villages on either side of the Gorkha valley. They welcomed us with open arms and included us in this burst of solidarity and sharing where everyone was contributing to rebuilding their community."
Those most isolated had an opportunity to reconnect with their loved ones after the disaster.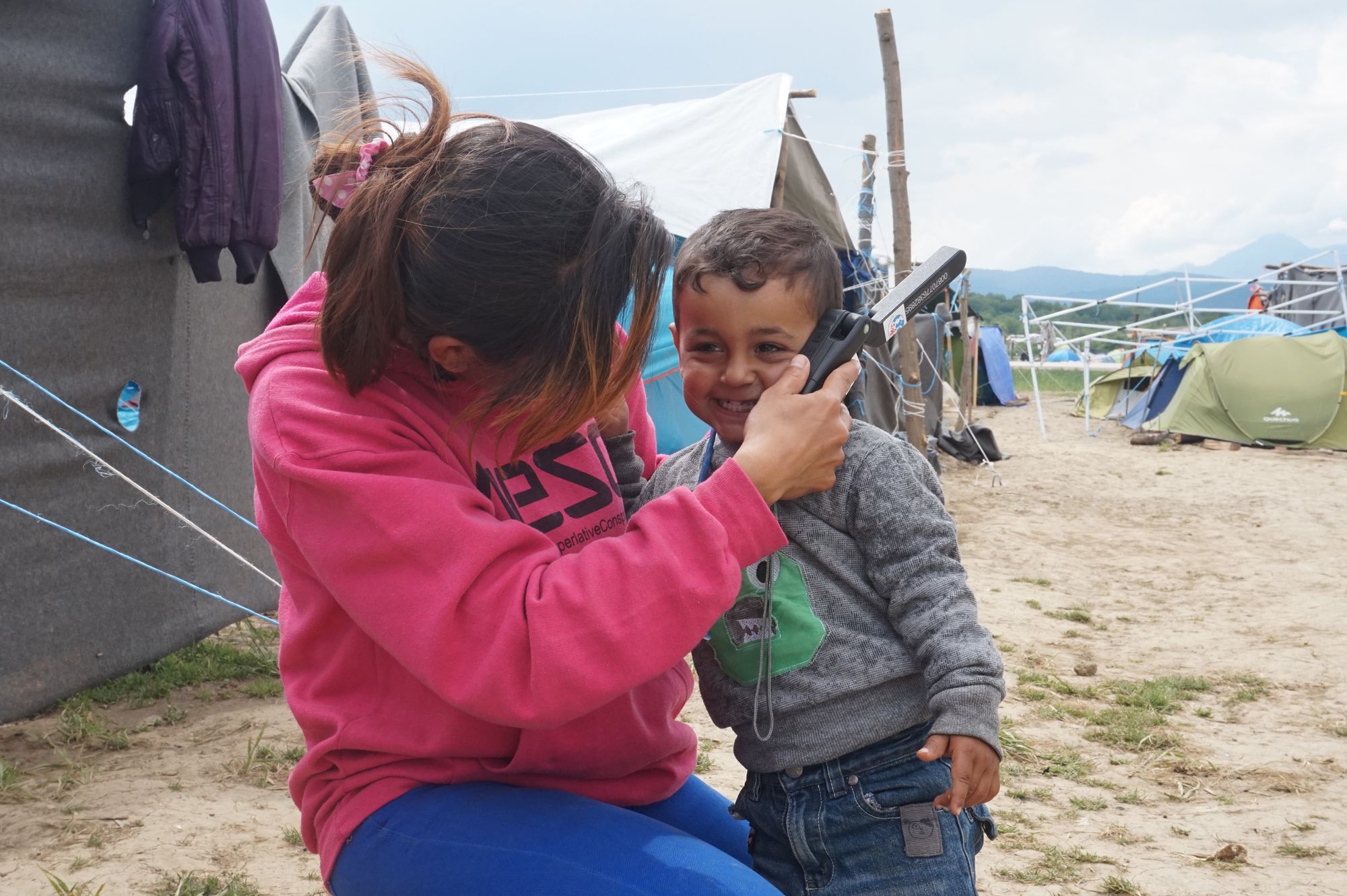 Balkans, 2016
In 2015, the ongoing conflicts in Syria, Iraq, Afghanistan and other countries caused mass displacement. TSF installed the first satellite internet connection in a center for asylum seekers in Serbia, and carried out calling operations in the Idomeni camp in Greece until its dismantlement.
Johanna, a Communications Officer at TSF at the time, was part of the team deployed in the field. One memory stayed with her: a woman giving birth in the camp.
"A Syrian woman gave birth in her tent on the ground. Helped by other women in the camp, she had screamed a lot during the birth (according to her tent neighbours), releasing her pain, without an epidural of course. I went to meet her to find out if she wanted to make a call abroad and tell the news.
I was told where her tent was, which was at the very end of the camp, next to the toilets, and I had to zigzag between wheelbarrows loaded with mattresses and blankets, children playing in the dust, and lines of people rushing to the food distribution. That's where I found her with her baby, in her tent heated to 40°C by the Greek sun, next to the sewage that flowed a few metres away.
She seemed tired from exile, promiscuity and the poor rations she had been eating for several months. She was exhausted but happy, and did not take her eyes off her baby. She made several calls, with an Isatphone in one hand and the baby in the other. She seemed very moved to be able to share with her loved ones and was so grateful for those few minutes of phone calls.
For me, it will always be a poignant image that reminds us that life goes on everywhere and that humans are resilient. And this is where I think the mission of the founders of TSF takes on its full meaning: what unites us are the bonds of life, this life that always takes over despite the hardships, as a sign of hope.
For 30 years, the founders of TSF have been helping people who have been torn apart by conflicts and disasters. Technologies and missions have evolved, but their conviction remains the same: people come first."
Technologies and missions have evolved, but TSF's founders' conviction remains the same: people come first.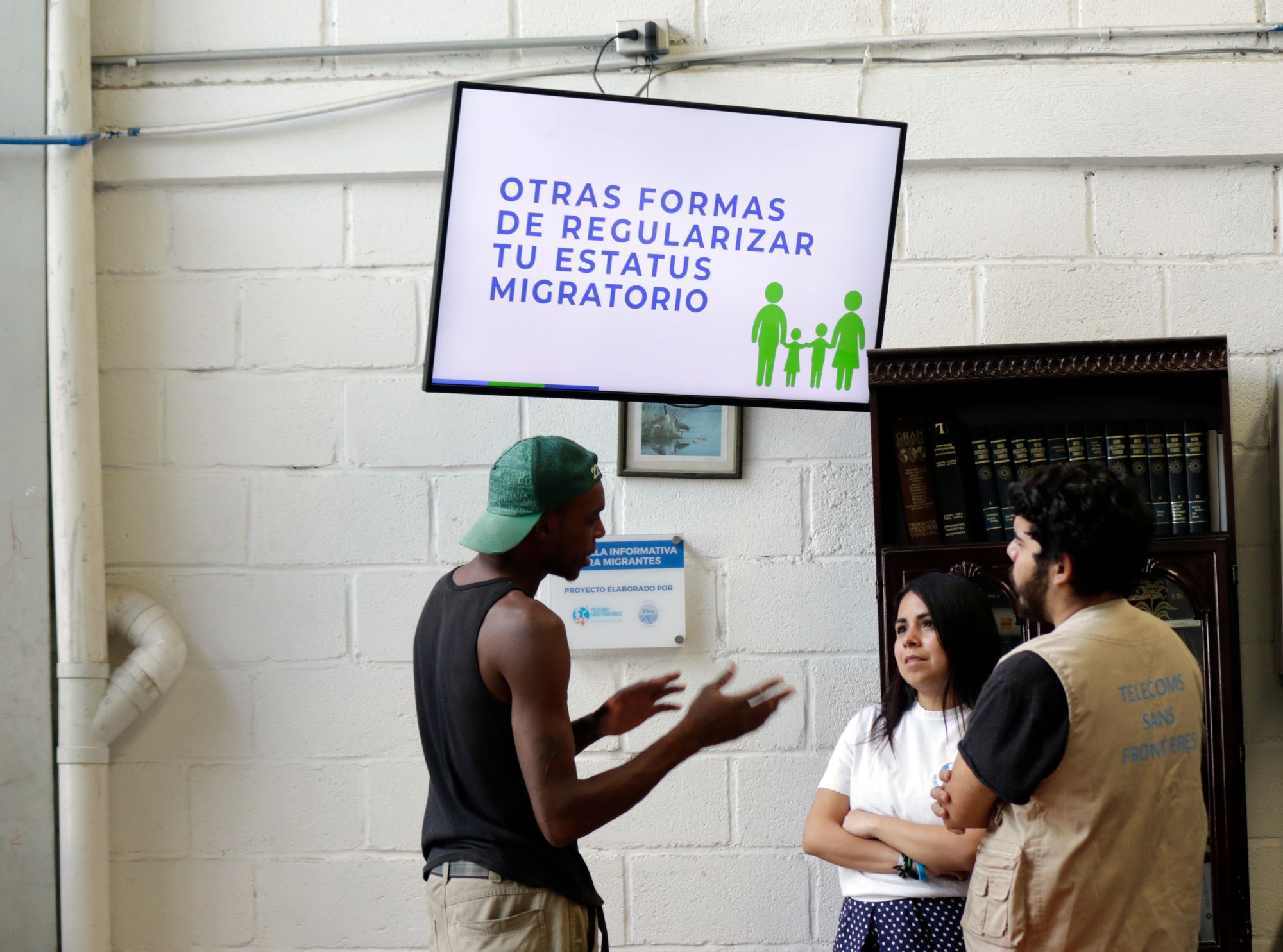 Mexico, 2017

TSF's Coordinator in Latin America explains what you need to know on how the Information Diffusion program started in Latin America:
"When the TSF Regional Base for Latin America and the Caribbean (LA&C) relocated from Nicaragua to Mexico in 2016, we made a conscious decision to increase our involvement in addressing the humanitarian needs of migrants and refugees in the region. Recognizing the importance of reliable information for people on the move, we drew upon our prior experience in developing a remote information diffusion system for a pilot project in collaboration with the UNHCR in eastern Europe.
In 2017, I began assessing the specific needs in Mexico by engaging with migrant shelters and actively participating in forums organized by the ICRC. To my delight, shelter managers warmly welcomed the idea of implementing such a system, acknowledging its potential impact in supporting and complementing their responses to the challenges faced by migrants and refugees.
In 2018, we launched a pilot program in five shelters. They all remain active participants in the network even after five years. Moreover, the initiative has expanded, with an additional 15 shelters in Mexico, three in Guatemala, and five attention centers in Colombia becoming part of our network.
What's even more encouraging is the increasing collaboration from numerous organizations that contribute information and utilize the system to disseminate their messages to migrant populations. This highlights the power of technology when thoughtfully employed to address genuine needs—uniting all stakeholders and making a tangible impact on the lives of those we seek to assist."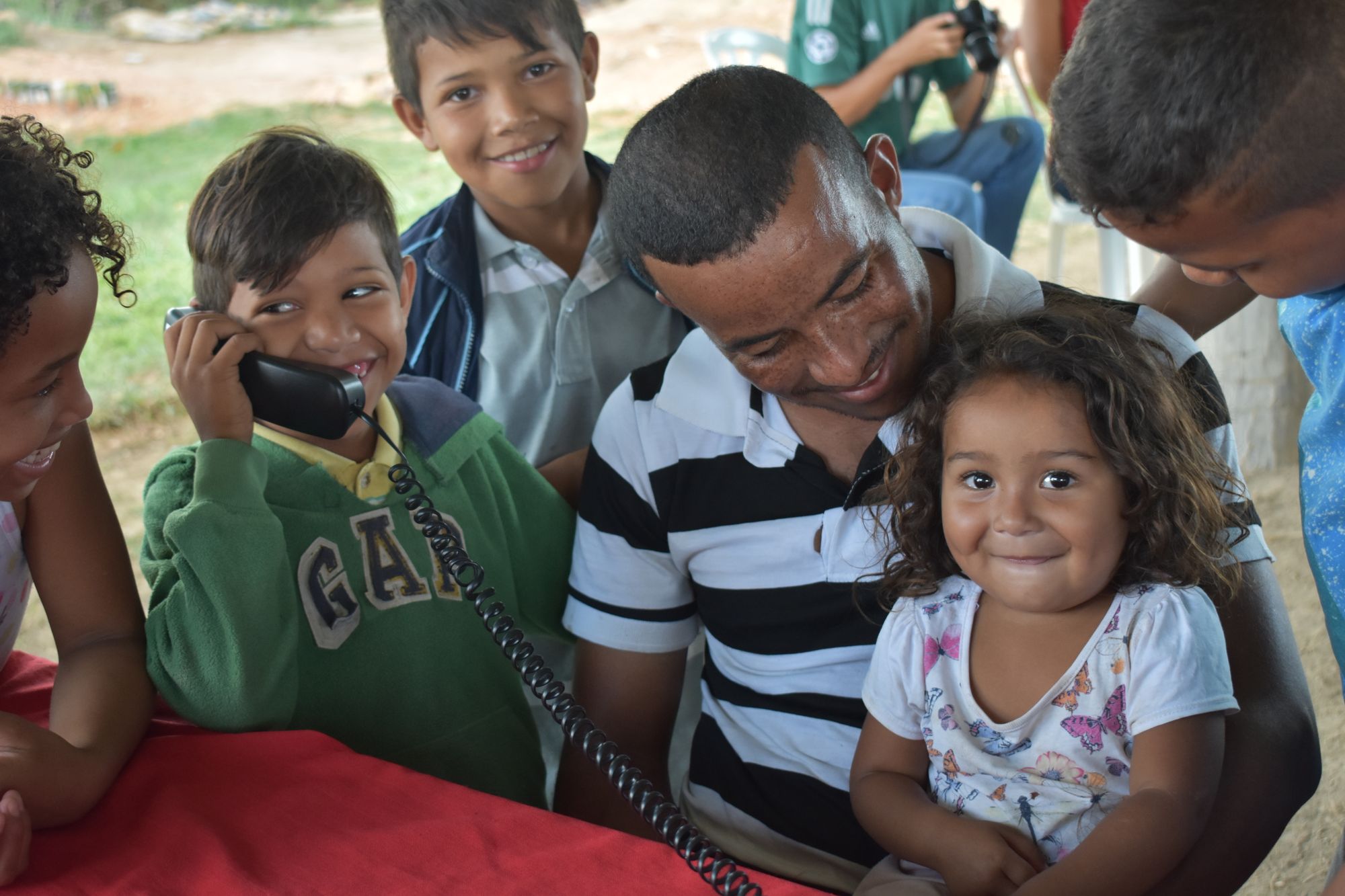 Brasil, 2018
In 2018, tens of thousands of Venezuelans fled the economic and social crises in their country. During the first half of 2018, about 40,000 Venezuelans had taken refuge in Boa Vista in Brasil.
This was Marta's first mission with TSF, and it holds a special memory to her. While carrying calling operations which benefited, both directly and indirectly, more than 300,000 people, Marta met people, was witness of this moment they were sharing with their loved ones.
"One day, in the middle of the operations, a woman approached me, holding a paper with a phone number in shaking hands. She explained to me that it was her young son's birthday; he was turning 5 years old. It was the first birthday where she was not going to be with him, as they had separated 6 months ago, when she went to Brazil in search of an opportunity to be able to send them money.
I let her make the call by herself, but I could see from the tears on her face that she managed to communicate with her son. It's going to be difficult to forget that "happy birthday" song."
The same day, Jessica, a young Venezuelan girl, came to the coordination center seeking to communicate with her mother, with whom she had not spoken for the past 4 months, since the last time she saw her before leaving her home in Venezuela. After several unsuccessful attempts, she decided to give up, since she knew that it was difficult for her mother to answer the phone.
"I wanted to make one last try, with which I got an "alo?" on the other side of the line. I asked not to hang up and I ran after Jessica, shouting her name, just before noticing that many other people were helping me to call her. We found her and she was able to talk to her mother through tears."
We found her and she was able to talk to her mother through tears.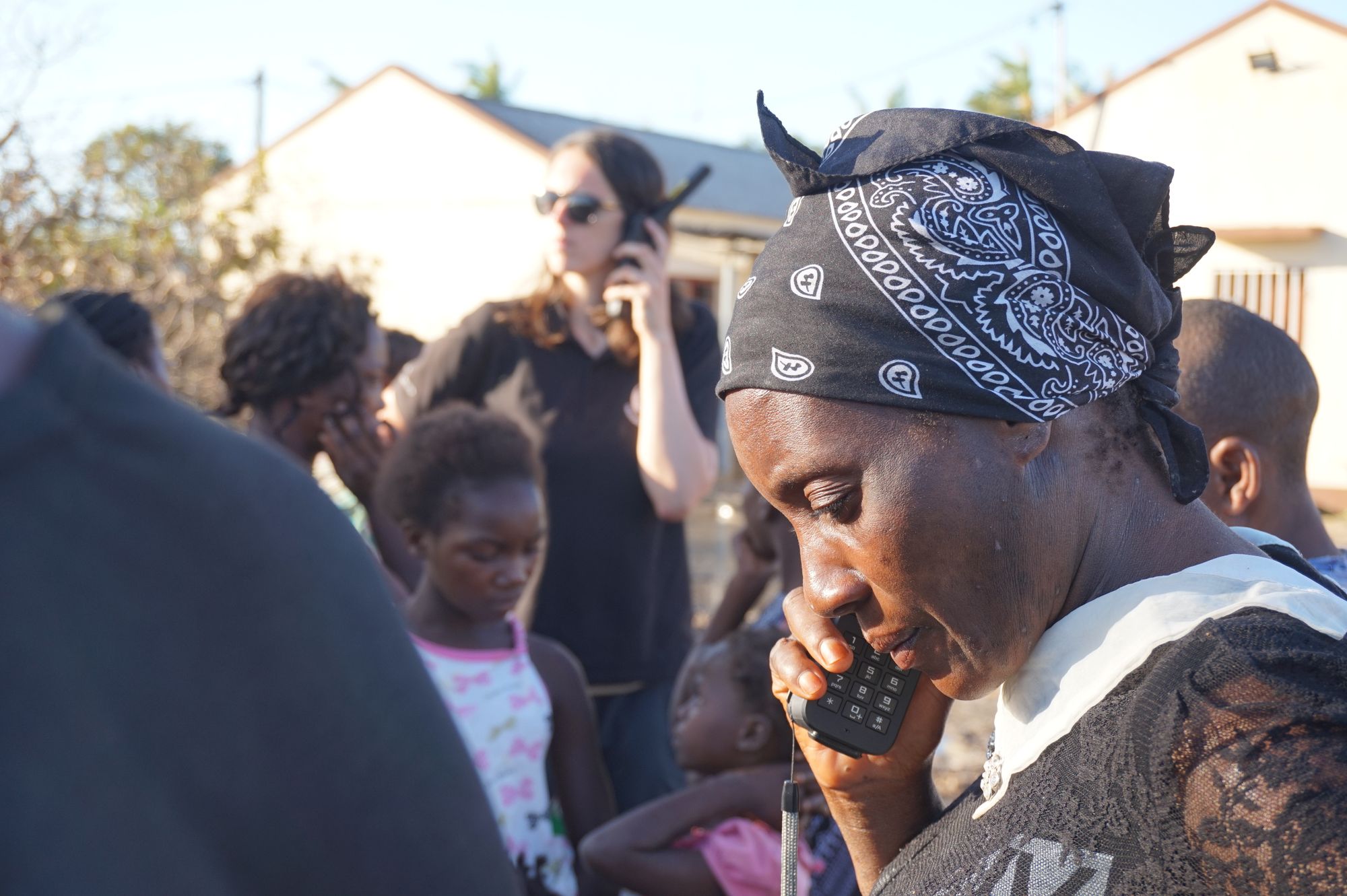 Mozambique, 2019
A few hours after a powerful cyclone hit Mozambique, TSF deployed to provide communication means to populations and organizations.
You can see in the picture a woman calling her loved one during one of TSF's calling operations, managed by one part of the team. For 89% of the calls issued during these operations, it was the first time both people could talk to each other since the disaster.
In parallel, another part of the TSF team focused on supporting humanitarian coordination.
The UN OCHA Coordinator during this mission explained why communications are essential for humanitarian coordination:
"In an operation like this, this is the data that is important to us. We are sending a huge amount of information in terms of graphics for donors, headquarters, to inform them on what's going on, but also around the community between the different hubs here: if we don't have that facility, we cannot share graphics particularly and it is very difficult ot establish a common operating picture. If everybody doesn't understand what the problem is, and understand how we are running operations, then very quickly coordination breaks down.
TSF provide that facility and provide the bandwidth we need to share that information. Without that, the operation doesn't work."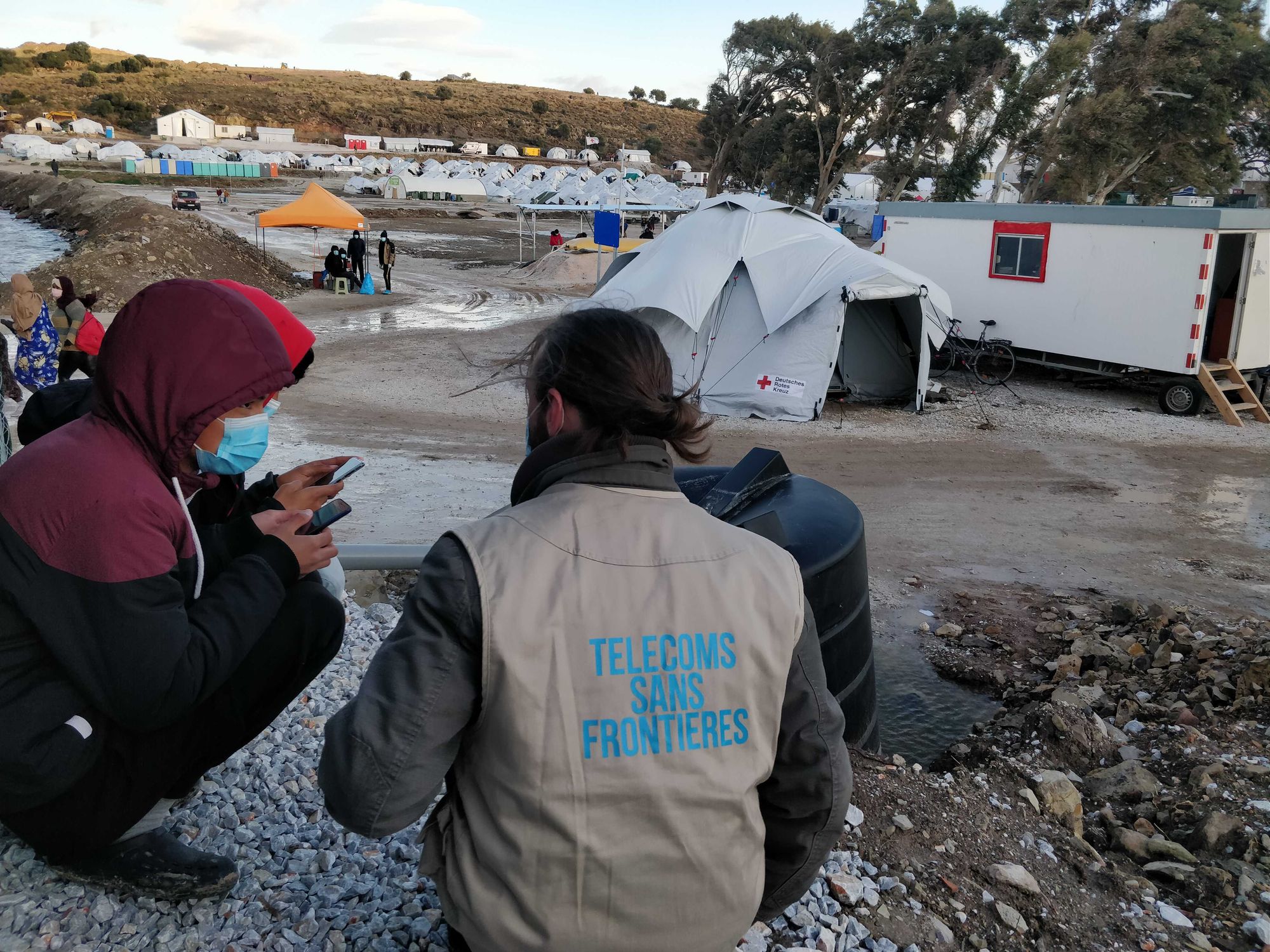 Greece, 2020
Jean-François Cazenave, co-founder and President of TSF, has been working with people forced to flee their home for decades. This is why he insists:
"If these men risk their lives and those of their families on makeshift boats, it is because they have already lost everything..."
In Lesvos, a Greek island near Turkey, many asylum seekers are stuck in refugee camps. After weeks of grueling journey, they are faced with uncertainty, worry and are often isolated from the rest of the world.
With Internet access, asylum seekers can find mental and emotional support with their loved ones. They can seek information about their situation, check the news, and take more informed decisions.
"TSF Wi-Fi is very important for me", a 17-year-old Afghan refugee shared, "because it is my only option to be connected, I don't have 4G. So it is my only option to learn the news, to stay connected and I think it is like this for many people. It is very useful."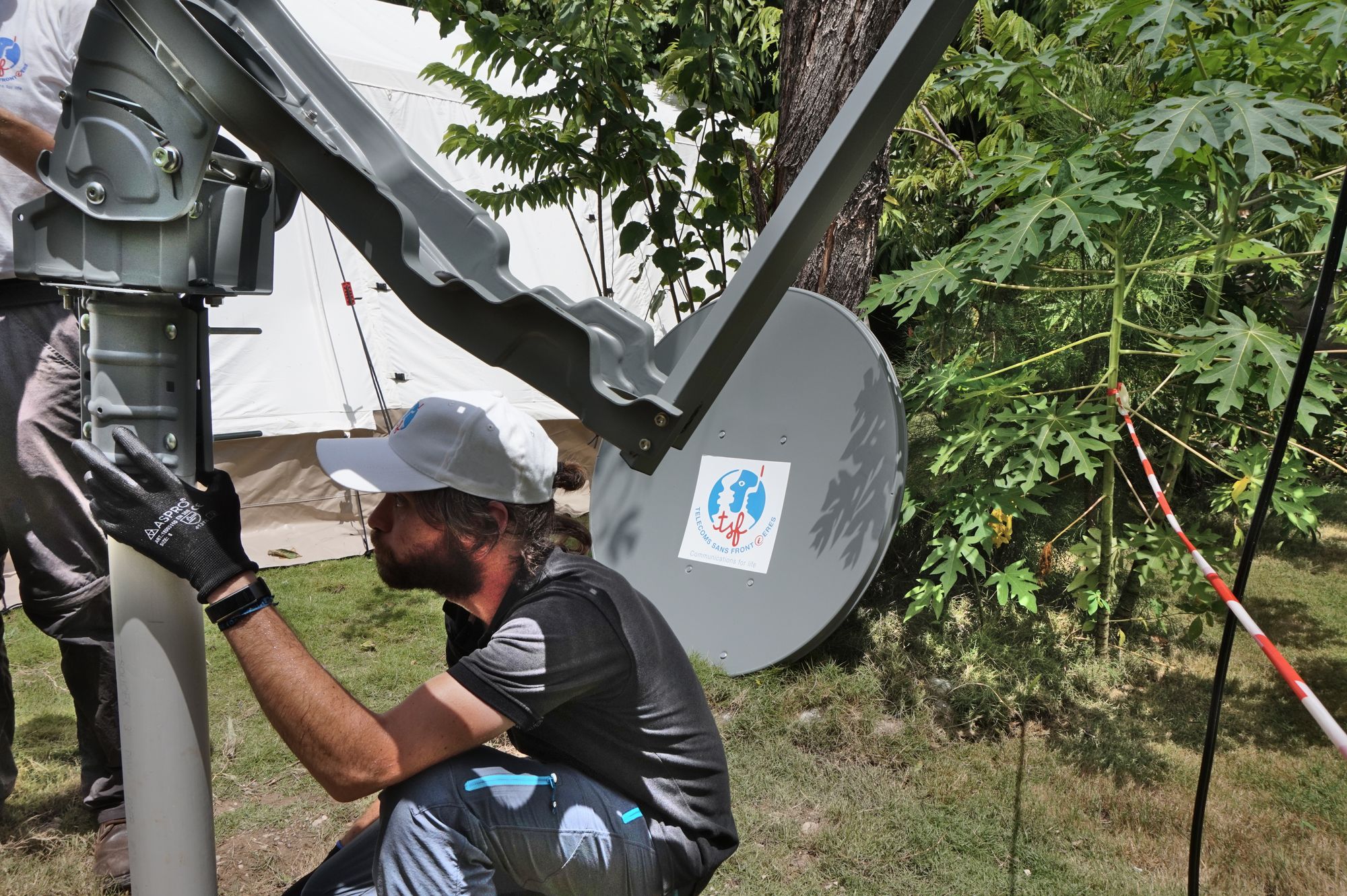 Haiti, 2021
How to coordinate medical assistance when the power goes out?
In this picture, Florent is installing a satellite connection to help organizations coordinate their actions after a powerful 7.2 magnitude earthquake struck Haiti on August 14, 2021.
Monique Lanne-Petit, TSF Director, remembered like many the 2010 earthquake: "As soon as we received the alert, we decided to deploy a team immediately. 11 years after our mission in response to the 2010 catastrophic earthquake, it was essential for us to be on the ground as soon as possible. We know the impact such catastrophes can have on the country and the need to act quickly."
The connection Florent installed was very useful for MSF, "because some telecom infrastructures were running on generators, and when the petrol ran out, the generator cut out and the mobile infrastructure disappeared", Florent told us. "All their supply logistics were done thanks to the VSAT."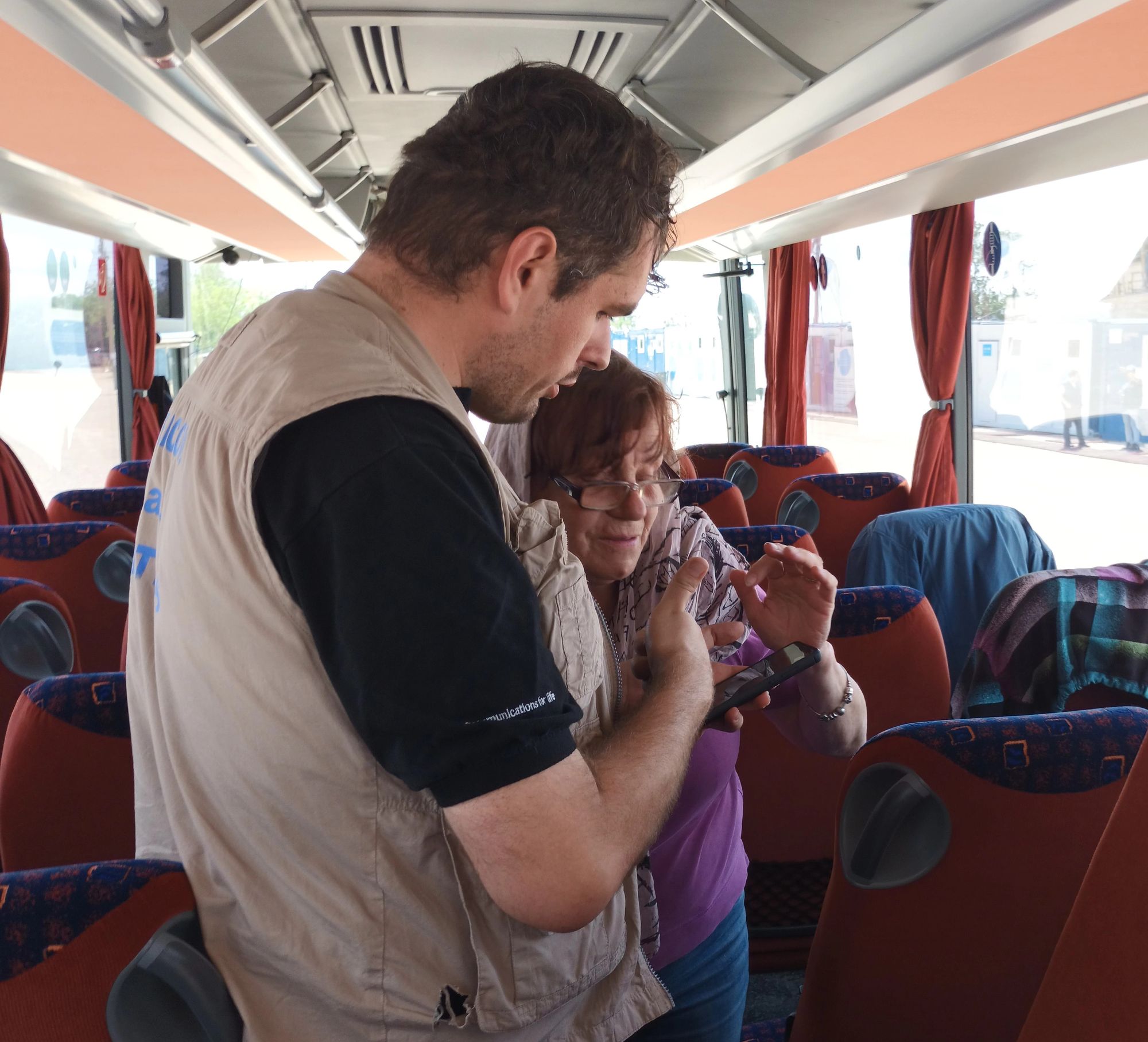 Ukraine, 2022
Dmytro, TSF project coordinator in Ukraine, shared a strong memory since he started working to help Ukrainian people forced to flee.
TSF joined the global response to help the affected civilians in the very first days of the conflict, and now has staff members in Ukraine and Poland to coordinate the various projects around the crisis - from Information Diffusion to Internet access for displaced people.
Dmytro is one of these staff members. In Fall 2022, he "went to Chernihiv to provide local doctors with satellite equipment. The problem lied with 3G/4G and GSM network in some regions of the Chernigiv district which were under Russian occupation.
After the liberation, doctors started to visit villages and small cities located there to provide people with medical assistance. But they couldn't contact the main hospital for consultation when they had some difficult cases. And before destroyed networks were fixed, TSF provided them with satellite terminals so they could do everything to help people from liberated territory.
I'm very proud of being a part of TSF team because our assistance not only lets people in need to contact their relatives but also helps to save lives!"
In 2022, TSF has helped 33,000 people affected by the crisis in Ukraine.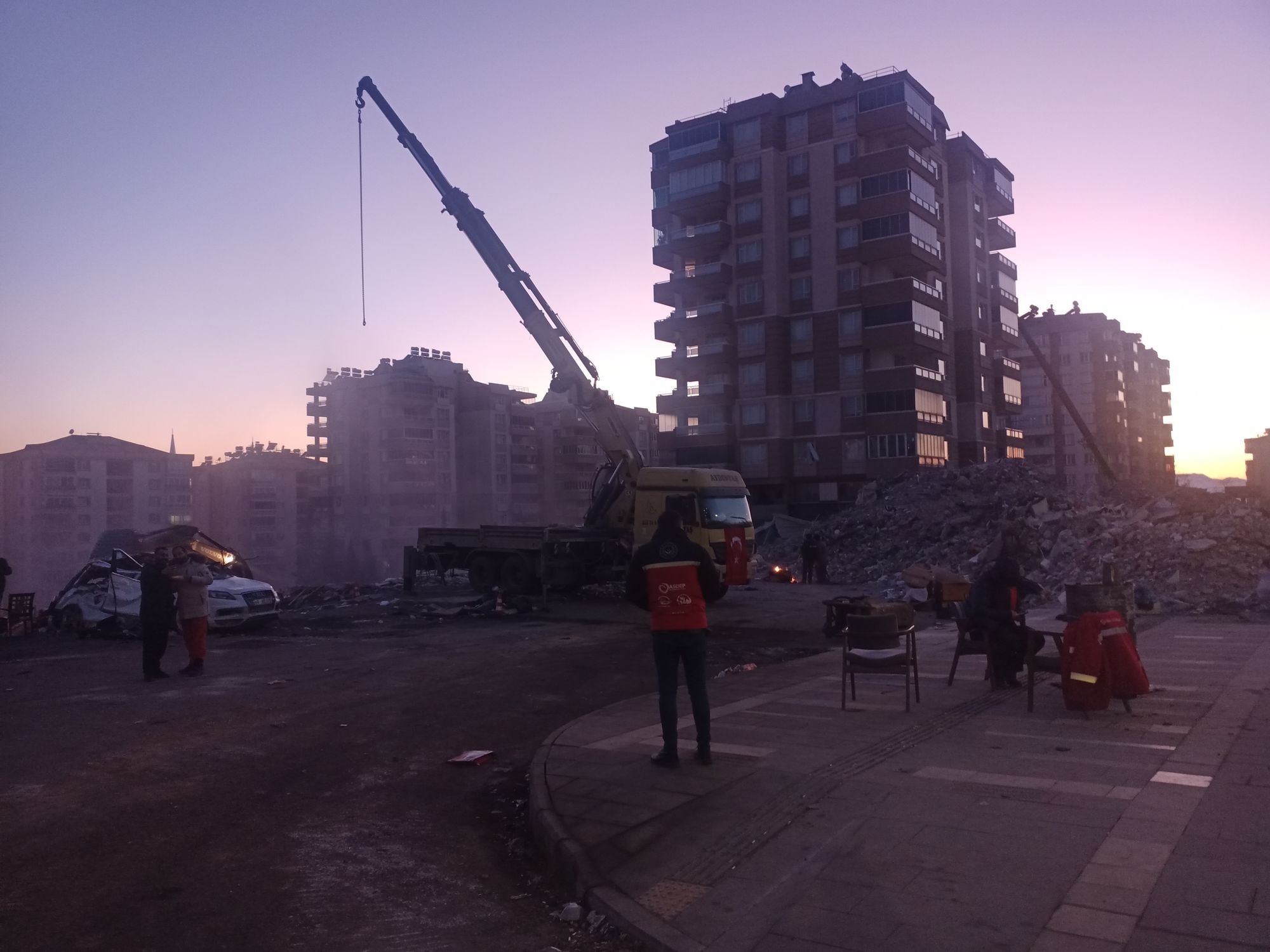 Turkey, 2023
"When you arrive, there's little light, no people in the street, people in their cars because they were afraid that buildings would collapse."
#TSF25Years: 2023, Southeast Turkey Earthquake.
Last February, a powerful earthquake and numerous aftershocks hit South East Turkey and North East Syria. More than 50,000 people died and hundreds of thousand of buildings were destroyed.
Marta deployed within the TSF team and describes what she felt when she arrived in Kahramanmaraş:
"The first night, it was really a ghost city, because they'd cut off the electricity. In the hotel we had electricity, but thanks to a generator. On the first day, we could see various little camps and tents, it was like an almost apocalyptic feeling."
The team has provided emergency connectivity to areas particularly hard hit by the earthquake in Turkey and Syria, and has initiated partnerships that enable us to continue supporting people affected by the earthquake.
Thank you for following us along this journey from past to present!

TSF's Director, Monique Lanne-Petit, declared:
In an ever-changing humanitarian and technical environment, TSF's approach to the responsible use of new technologies is central.
The pressure of the climatic, political and technological contexts must lead our NGO to maintain its founding vision with an increasing focus on resilience: Communications for Life serving the Life of People.