---
Welcome to issue 21 of the Call to Comms!
After the devastating news of the deadly shipwreck near Greece and the recent end of Title 42 exacerbating the human crisis at the US-Mexico border, World Refugee Day today seems more important than ever. This year's theme focuses on hope. At our scale, we try to bring hope to refugees in our missions, whether it's through connectivity or information. With testimonies from a researcher, TSF staff and refugees themselves, read this week's focus on World Refugee Day.
---
World Refugee Day: inclusion and hope

Each year on 20 June, World Refugee Day celebrates the resilience and courage of refugees who have been forced to flee their homes. This year's theme is "hope away from home", to focus on the "power of inclusion and solutions for refugees". How can technology offer solutions to include refugees more and give them hope?

Reconnecting with your loved ones and with the world
Some refugees are on the move, finding shelter when they can. Others are waiting in camps for their applications to be processed. Many refugee camps are "geographically located in remote regions, typically close to borders", Dr. Maitland, who researches information technology use in organizations providing humanitarian assistance, told us. This means that "sometimes the connectivity that is available is limited", a "challenge" for both humanitarian organizations and refugees themselves.

Connectivity can help include refugees, reconnect them with their loved ones and with the rest of the world, and open new opportunities.

"I use the internet to look for work, and to know what is going on in the world."
An anonymous refugee in the Lipa refugee camp, Bosnia, 2021.

Through access to the Internet, refugees can find hope in their loved ones' support, in possible opportunities, and in information. However, information on the Internet is not always reliable.
Fighting online misinformation
"I think it is important that aid agencies, host communities and host governments understand the potential negative impacts that misinformation, disseminated through information and communication technologies, can cause", Dr. Maitland said.
Displaced people  are very susceptible to rumors because they lack normal social networks to validate the information. Without your friends and family around you, "how do you validate information that you see online"?
This is why reliable information is especially important for refugees. This is an aspect highlighted in a recent interview with TSF staff member Abril. Abril works in Mexico in the Information Diffusion project which relies on remote-controlled connected screens displaying reliable information for people in displacement. She explained: "We're trying to give [displaced people] information that they're not necessarily going to find on social media, which is where they spend most of the time, but that can have the biggest positive impact in their lives as possible."
"I feel a bit more prepared after reading the information."
Anonymous Hondurian man, 34, in a shelter in Tijuana, Mexico.
---
This week's reads
The latest news from TSF, our partners, and the humanitarian and technological web
1- Nearly 80 migrants drown in shipwreck off Greece
At least 78 migrants drowned early on the 14th, with hundreds more missing. The boat may have been carrying between 450 and 700 people, with about 100 children, survivors say. So far, 104 people were rescued, many suffering from hypothermia, dehydration, and shock. The search operation is one of the biggest reported in the Mediterranean, but hopes are fading as the boat sank in one of the Mediterranean's deepest areas.
2 -  Asylum seekers struggle with border protection mobile app
Mexico plans to launch an asylum processing app to face record levels of asylum seekers in the country, even after the harsh criticism of a similar US app for glitches and difficulty of use. One of the tools used to try to limit the crowding at the U.S-Mexico border is a US mobile app, CBP One. The app is now the only way for asylum seekers to request an appointment with the US Border Patrol to submit an asylum application, even though some have lost their phones during their journey, use outdated phones in shelters with spotty Wi-Fi, or lack tech literacy. Some have been waiting since March to get an appointment.
---
In case you missed it
Discover the most recent interview by the Call to Comms team: meet Abril, part of the TSF team in Mexico. She shares how she went from working for big corporations to joining an NGO, and how the monitoring and project evaluation she does helps the project meet its goals. She also explains why working to help displaced people is both the hardest and most rewarding part of her job.
"When you go in the field and you talk to the people that are using the tool that you're working on, and you see the impact, that's what makes it worthwhile."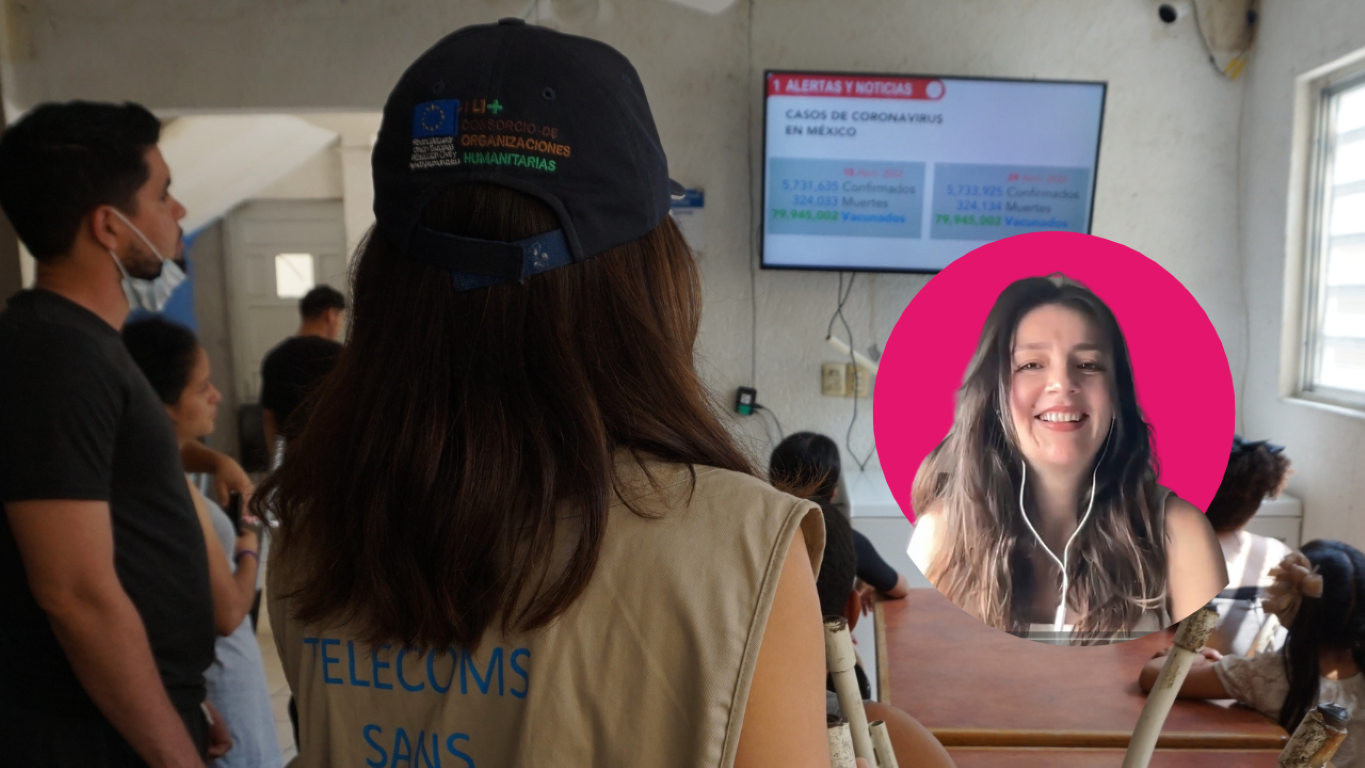 See you next week!
---