---
Welcome to issue 13 of the Call to Comms!
In honor of International Girls in ICT Day, we are highlighting the importance of increasing the number of women and girls in the ICT sector. The theme for this year's event is "Digital Skills for Life," and we encourage everyone to organize events to support this cause.
This week, we also feature Hanna Veres, one of our TSF staff members. Hanna shares her experiences as a Ukrainian refugee working to bridge the information gap for other refugees in Poland through TSF's Diffusion of Essential Information mission.
💬 In this week's issue:
---
International Girls in ICT Day
This Thursday, April 27, will mark the International Girls in ICT Day. The International Telecommunication Union (ITU) created the day 12 years ago to raise awareness of the need to increase the number of women and girls in the information and communication technology (ICT) sector. This year's theme is "Digital Skills for Life" and the ITU is encouraging people all over the world to organize events around this theme.
Marta Moreton, ICT specialist at TSF, told Capacity media how she was one of 10 female students in a 150 engineering class: "If you don't find support around you, look for all-female technology communities. We have to support one another as well as ourselves to truly promote change in the industry.".
---
🗞 Latest news from TSF, our partners, and the humanitarian and technological web
The struggle in Sudan causes hundreds of casualties. Due to the violent unrest in Khartoum, Sudan's capital,  more than 400 people were killed, 4,000 injured, and thousands displaced fleeing attacks that destroyed hospitals and homes.  Humanitarian workers have been targeted by both sides of the conflict, leading to the World Food Program to put on hold operations following the death of 3 staff. This deepens the humanitarian crisis in Sudan, millions facing acute food shortages.
Data Cloud Global Congress opens today. In Monaco, the congress gathers senior executives in the ICT space, with a focus on digital infrastructure.
'Why narratives around migration in Latin America need to change'. An opinion piece for The New Humanitarian, written by a Colombian refugee involved in advocacy work. She explains why Latin American refugees are neglected and why their voices must be at the centre of the debate.
---
Meet Hanna: Providing Essential Information for Ukrainian Refugees in Poland

As part of our 'Meet the staff' series, we spoke with Hanna Veres, a Ukrainian national who is currently coordinating the TSF mission in Poland. Hanna's passion for helping others brought her to the organization, where she is responsible for ensuring that information is both accessible and reliable for Ukrainian refugees in Poland. Through the Diffusion of Essential Information for Ukrainian Refugees mission, Hanna collects and organizes information from various sources and displays it on regular TV screens for easy access.
Hanna's personal connection to Ukraine and the challenges that come with being a refugee herself make her work particularly rewarding. However, her role also poses challenges, such as balancing her emotions and staying detached while sharing the experience with others. In this interview, we get a glimpse into Hanna's role and the importance of the Diffusion of Essential Information mission in helping refugees navigate their new lives in Poland.
"I enjoy being able to be there for the people that I share the experience with. Being Ukrainian myself, I can feel their pain, which enables me to respond to their needs in a much better way than someone in the outside world."
Hanna, project coordinator, TSF staff in Poland.
Check out the full, written interview or the video version below to learn more about Hanna's journey and her valuable contributions to TSF.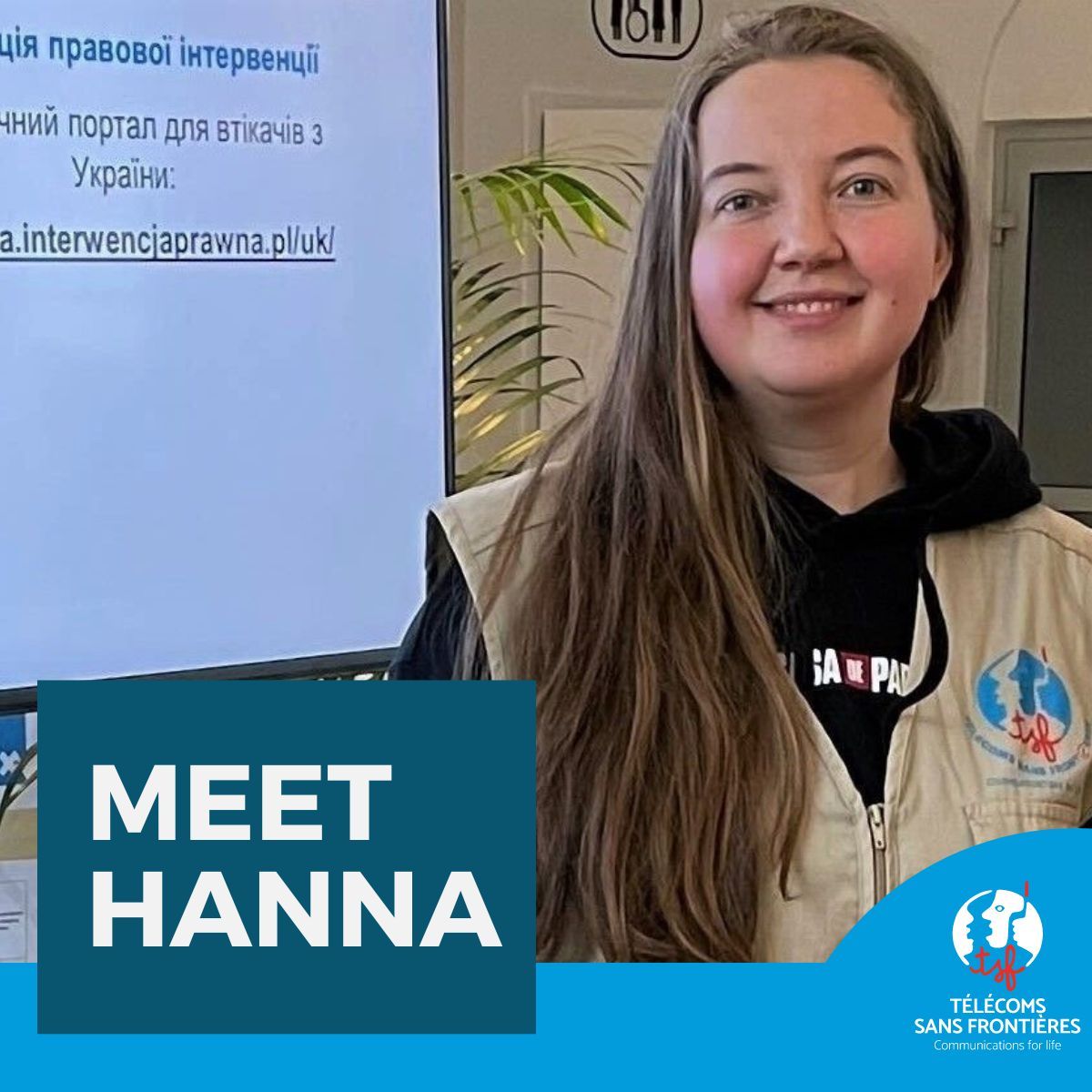 See you next week!
---